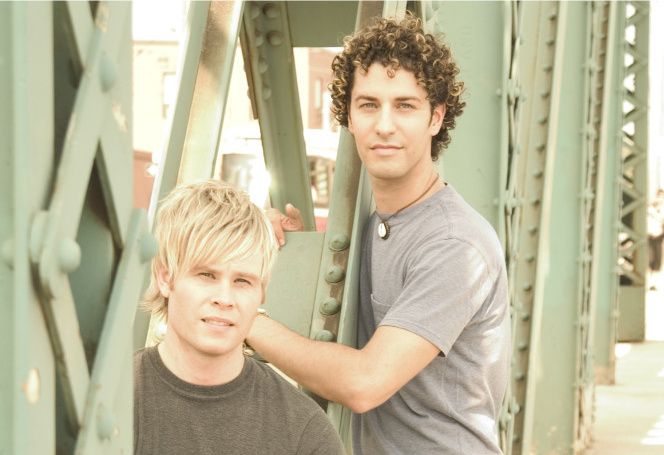 Pictured: Jason left, and deMarco right.
Tomorrow night, LOGO TV will be premiering
We're All Angels
, a documentary following the singers Jason & deMarco. They are a couple, out and proud, as well as men with strong spiritual beliefs. They are also cute as buttons, and much of their music pop confections that are irresistible to me. I hope Jason doesn't mind, but I have a bit of a crush on deMarco, and have for some time now. Indeed, I am a fan of the music, and have albums in my collection, including
Safe
, which I think is wonderful. But first, here is a peak at
We're All Angels
.
The 2008 album
Safe
was a bit of a departure for them, utilizing from different instrumentation and rhythms, venturing away from some of the classic pop stylings to a more stripped down pop feel. Their second album,
Till The End Of Time
, was released in 2006. It included
This Is Love
, a beautiful song sung so well by two men in love. It just warms my heart to even hear it, let alone see there cherubic faces.
In 2004, the duo released their first foray into secular pop music, called
Spirit Pop
. By this time, they had been shunned by some, but not all, of the Christian music community of which they were once a part. Their faith, which was an important part for both, was to be a part of their lives whether that worked for others or not. But another part, the strong love they felt for one another, would not be denied either. For that, I give them much credit.
All I Long For
is a song from that first album.
Released as part of the
Safe
album,
It's Okay
is also a theme of sorts to
We're All Angels
. The following is a video recorded by a fan of Jason and deMarco singing at a personal appearance.
So, tomorrow night I will be watching LOGO when this airs, just charmed by the pair of lovers. I am such a sucker like that. For more on Jason & deMarco, check out their website
here
. They are yet another act I would love to catch live, and hope to do so. Even if I just get the chance to stare at that cutie, deMarco.