Having asked nicely if she could guest blog, I of course said "yes!" So here is my niece, Mandy.
Left to right: Me, Tom Goss & Mandy
I get to guest Blog, I hope I live up to the S2MD Standards!
My earliest music memories are marked by the presence of my Uncle Howard. My first tape I ever got was a mix of "happy" Cure, Howard Jones, and the Communards. I loved that tape and still consider it one of the best presents I have ever gotten. In one cassette tape a whole new world of music was open to me. In that 120 minute cassette, I was held captive by melodies and lyrics that I can still recite today. To this day if I hear
Love Cats
or
Fire in Cairo
, I cannot help to sing along and remember those agonizing moments when I listened over and over to learn all the words.
From that Christmas forward, I looked forward to my mix tape gifts. The next tape contained a mix of Crowded House, Some more Cure, and the Housemartins. Once again I listened to that tape until I knew every word. I couldn't get enough of the music. More mixes followed, and my love for music grew. The bond that was forged during those formative music years between Uncle Howard, Aunt Kim, and myself is something I carry with me to this day. I can remember them teaching me to dance and keeping me in the loop with great music. INXS, Billy Bragg, U2, Fun Boy Three, Tears for Fears, I could go on and on. I couldn't get enough of the music, of conversations, and being included. I love those childhood memories.
Although the years have passed and my music taste has diversified, I still love talking music with my Uncle Howard. Take any given day when we hang out and listen to music. Once again I am a 10-year-old girl, listening with a fresh ear to the latest music Uncle H has found. I still get the same little kid excitement when he gives me a new CD he put together for me. He has introduced me to some many new voices, including Eric Himan, Tom Goss, and Aiden James. In the past few years he brought it back old school and made a birthday CD for me. It was filled with all sorts of wonderful songs and it's always in rotation on my iPod. You cannot believe how excited I was over that CD!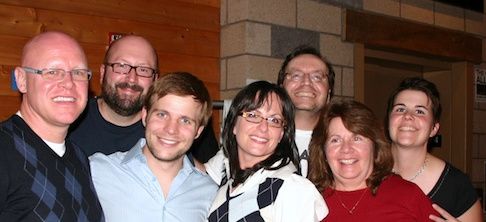 Uncle H and I have become quite the live music buffs. Whether we are going to a small venue to see Eric, Aiden, or Tom or large concerts like Staind. My all time favorite Concert moment was seeing The Cure live, and being there with Uncle Howard. It was like one of my childhood dreams come true! I cannot think of a better person to go to a live show with than him.
In fact, Uncle Howard is such a big supporter of local artists and arts, he "voluntarily" takes photos of my dance studio's annual show. Although I think some of those photos are for him to embarrass me with! But, the love he has for music and dance is evident in the wonderful photos he takes and shares with the dancers. I am truly lucky to have had such a positive influence in my life who instilled in me the love for music and all the arts.
The many dances of Mandy.
This love is what keeps me coming back to all the great music of my childhood and looking forward to the next great thing. So I may be rocking out to the latest Deftones or singing along with Chris Dallman, but it's all one love.
Smooches!- Mandy