In 1982, a band came together in the town of Manchester, England, that helped change the musical landscape in the 80s. The final line up of Morrissey, Johnny Marr, Andy Rourke and Mike Joyce were together only until 1987, yet The Smiths' alternative sound and style took the 50s/60s hipster feel to a new level, with Morrissey in particular adding a Kerouac-on-steroids aspect hard to miss. The band combined near-record levels of melancholia with rock beats and became darlings of the college campuses, building up a strong fanbase that rose to almost cult levels. To many, both the band and Morrissey became a God. I figured it was about time I tackled The Smiths, as I have wanted to for some time, yet never figured out how I was going to do it. So I decided I would just compile a list of some of my favorites, combine it with some of my sister Kim's favorites, and see what I could find on YouTube to make it happen. I ended up with a list of seven songs, and decided to offer up a 2-part series, tonight and tomorrow night. Enjoy my attempt at remembering The Smiths.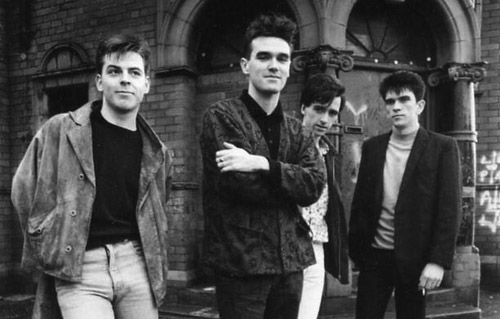 In 1983, there were two singles before the release of the first album. The second was
This Charming Man
, which later became part of the eponymous debut album release. I look at this video, and I can't help but notice how young Morrissey looks! And I really like the song.
Hatful of Hollow
was released in 1984, a compilation of various live performances, interviews, and some studio singles. This included
Handsome Devil
, part of a Peel Session recordings.
In 1984, The Smiths released a couple of non=album singles, the first of which was
Heaven Knows I'm Miserable Now
. In typical Smiths/Morrissey fashion, it was a dark message of the miserable life of the working class, brightened by Marr's interesting and amazing guitar work. In the following clip, you see some old live footage of the band, and Morrissey's easy sensuality on the stage.
In 1985, the band release
Meat Is Murder
, stepping up the rhetoric a bit, being more politically charged than the debut.
I Want The One I Can't Have
could be found on the album, and it amuses me to no end. This song has been analyzed to no end, as Morrissey has been evasive at time about his own sexuality. There have been times he claims to be asexual, absent of a sexual bent in his life, and other times when he has claimed to fit the description of hetero, homo, and bi-sexuality. But the sound is classic Smiths, and the emotions - the haunting feeling of deprivation - certainly come to the forefront.