Originally written for
Rickey.Org
Tonight we will learn who is in the finals, who will be battling for the chance to be named the next American Idol. Two years ago, we learned it would be David vs David, and last year Kris vs Adam.
Crusty comes out and tells us there were 47 million votes last night, all to help sort out next week's final at the Nokia Theater. Crusty brings out the final three, Casey, Crystal and Lee, and chats. Casey talks about who this has changed him from the time he wasn't sure he would make it past auditions. Crystal is amazed about the amount of work that goes into being a competitor on the show, and Lee agrees. Asked about winning, Crystal and Lee talk about thinking about winning, while Casey says he hasn't thought about it, continuing to be surprised he is still there.
Randy discusses how shy Lee was when he started, and how he blossomed. He thought Crystal has grown from indie girl to artist, and Casey delivering on the legacy of Texan artists like Stevie Ray Vaughan. Crystal talks about how each and every comment was heard and processed, while Casey laughed and mentioned not all were. Point for Casey!
Time for the homecoming video clips, starting with Casey. But before we do, we get the Ford Video, with the kids singing
Wild One (Real Wild Child)
, with the Idols-turned-graffiti-artists singing the rock with a shot of vanilla.
Back to the homecoming, unlike what we saw on the clip last night, Casey had tons of people show up for him. There are screaming hoards of people, mostly women, and a really touching time in the hospital when Casey stopped by to thank the staff that not only saved his life, but also his arm to enable him to continue to play after a bad accident.
Now we hit the Perez Hilton segment of the show, and who discovered Travis Garland, and is, according to Hilton, better than Justin Timberlake. Then he sings. Oh, my. I am thankful for the backing tracks. Well, he dances well.
Next Crystal hits the tarmac, and we travel to Ohio with her. You get the idea the idols spend as much time in the limo as with the people! Crystal enjoys playing jack-in-the-box with the crowd. I love the Toledo mayor with the Harley outfit! and there is the reunion with her son and her father, which is very sweet. Soon they head out for a concert aptly entitled Bowerstock! We hear an original song from her,
Holy Toledo
, which is very nice.
Lee hits the road to Chicago, and there are many screaming girls and women, and lots of tears from Lee. After visiting his school, he visits the paint store. And time with the family. There is a big concert, and Lee singing The Boxer, breaking down a a bit. He talks about his parents and what their faith and pride mean to him.
After the commercial break, we get Justin Bieber, a natural choice for this group of contestants. Bubblegum Pop meets Rock, Southern Blues and Folk-Rock. He performs his latest release,
U Smile
, then moves on to his hit,
Baby
, which includes his drum solo. No, really.
And now it is time for the results. Crusty handles the recap, with Lee, Crystal and Casey, prolonging the tension. The first person in the finale is Lee DeWyze. Joining Lee in the final is Crystal Bowersox, and Casey is leaving us. Casey is graceful in his leaving. He sings
Daughters
as his exit song, He picks up a little girl, and sings with her. What a nice moment. There is a nice moment when they cut to a tearful Crystal. He hugs the judges, and leaves Crusty to run the final video without him.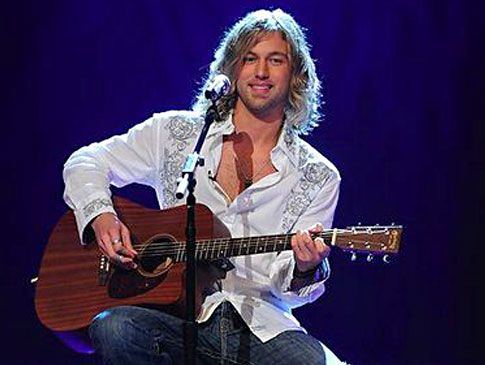 And next week, it is between Lee and Crystal for the title.