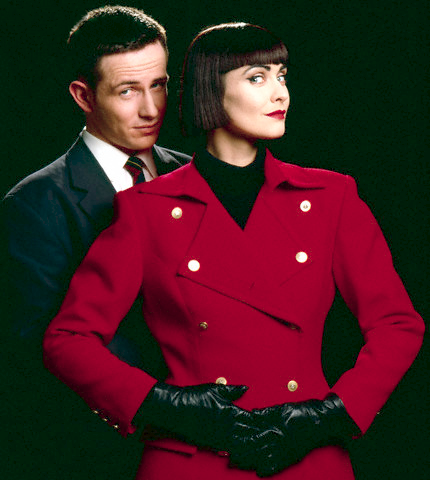 Top: Swing Out Sister in the late 80s. Bottom: Them today
.
In 1986, a quartet emerged from the UK, a trio and their producer, with a single that shot up the charts around the world. Swing Out Sister was made up of Andy Connell, Martin Jackson, and Corinne Drewery, along with producer Paul Staveley O'Duffy. Their first album for their label,
It's Better To Travel
, made it to #40 on the US album chart, mainly on the strength of the first single,
Breakout
. The single was on top of the charts across the globe, including reaching #6 on the Billboard Singles chart, as well as #1 on the US Adult Contemporary chart.
While working on the second album, drummer Jackson left the band, leaving the core to just Connell and Drewery. The duo have remained together throughout the years, maintaining a fanbase around the world, although their popularity waned in the US. Still, they released their most recent album in 2008, a jazz-flavored soul offering,
Beautiful Mess
. While none of the singles charted in the US, the album did top the US Jazz chart when it was released. And I really like the second single,
Something Every Day
. Check out the video, and notice how great they look, 22 years later.
You can find more about Swing Out Sister on their official website
here
.