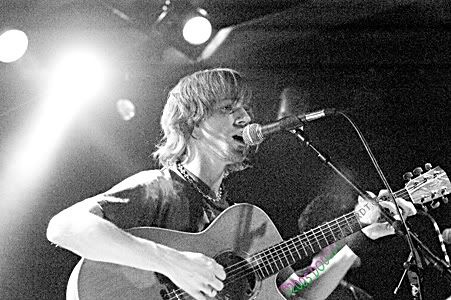 I could listen to Garrin Benfield play guitar and be a happy man, but to listen to him sing, too, and I am in Nirvana [the sacred place, not the grunge band]. Add to the mix that he is very handsome, and this selection has nothing but win written all over it. The San Fransisco-based singer/songwriter is a remarkable talent, as proven in the 2002 appearance at Viva Variety. This is
Crazy Love
, a song that shows off some fine work on the guitar.
The next song from that same performance,
Hungry Ghost
, from the album
Nowhere Is Brighter
. For me, it showcases his haunting voice.
Garrin is an out and proud performer, noted before he starts singing the next song,
What Do I Deserve?
, he talks about the expectations of a gay musician, or at least the perceived limitations.
Last October, Garrin performed in Pawling, New York, and a fan taped this video. The song is
Belly
. It is a new song, not yet recorded. I really like it.
Children Go Where I Send Thee
is an old African-American gospel song, and has been covered by many people thru the years. Here is a performance taped in San Fransisco's Cafe du Nord in 2008.
In my opinion, Garrin rocks with every song he plays. For more on Garrin Benfield, check out his official website
here
.