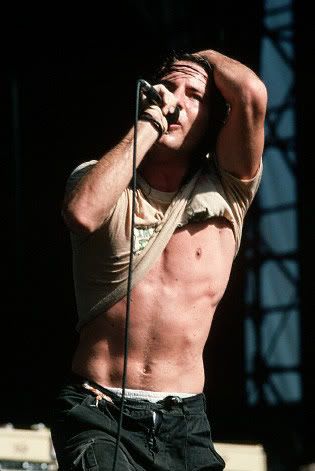 Well, if Saturday is gonna rock, I gotta lay some Pearl Jam on it sooner or later. Why, you ask? Cause I loves me some Pearl Jam. Their music is at once layer, textured, cacophonous, soulful, heavy, metallic, honest, brutal, sweet and forgiving. Lead singer Eddie Vedder is amazing to me, a talented songwriter, and a gifted vocalist who can pull out the emotional content and lay it on the song like a gravy. Technically, he might not be the best singer, with a raging vibrato and a growl for days, but somehow it all works for me, making him truly interesting to watch. And, yes, he is gorgeous. I know he is a straight man, but I can still look, you know? Here is is singing the great song,
Alive
.
He is not only open-minded, but he is outspokenly supportive of the equality movement. I had read a review of a concert in Memphis, Tennessee, and it went like this:
At one point at the '94 show, he asked the audience, "Is it okay to be gay in Memphis?" The crowd mostly booed back, "no." To my present shame, I was one of them. (At least I would eventually outgrow my childlike homophobia.) Vedder had a comeback to the Memphis masses: "Then you're all a bunch of fucking assholes."
Here is another favorite song of mine, the incredible
Black
.
Vedder is no stranger to making political statements at concerts, that is for sure. The band is also supportive of many issues for women, including the right to choose. In an MTV Unplugged concert in 1992, Vedder stood on a stool and wrote "PRO-CHOICE!" on his arm in protest when the band performed the song "Porch". They also supported women who were in abusive relationships, a topic brought up in the song
Better Man
.
The band has also been outspoken about the abuse of children, both by adults and other kids. They helped forward the discussion of bullying with the video for
Jeremy
. Here is the song from a kicking live performance.
One of my personal favorite songs from the band is
Even Flow
. The song, from the 1991 debut titled
Ten
, was their second single, and it climbed the charts to #3 on the Mainstream Pop chart.
The band has also been very politically active, supporting Green candidate Ralph Nader in the 2000 elections, as well as backing Democrat John Heinz in the 2004 election. They have taken part in MTV's Rock The Vote movement, encouraging young people to step up, get to know the facts and participate in the democratic process. And Eddie has managed to do all this and still look damn good.