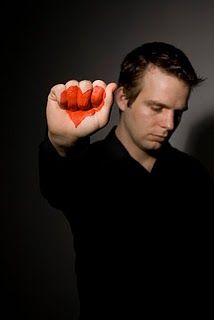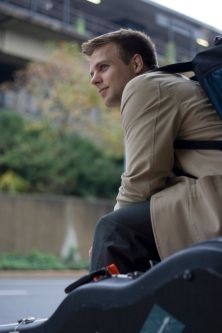 The next stop on my holiday rounds will be in Washington, DC, and my friend, Tom Goss. He is one of the most positive, nice people I have ever had the pleasure of knowing. He and husband Michael are adorable together. I first got to know Tom and his music when he opened for Eric Himan at the World Cafe Live in Philadelphia, and I was enjoying his set until he got to the song
Rise
, and it was over for me. I became a huge fan, and still love the song to this day. I mean, I LOVE the song. The lyrics are just so beautiful, so rich, and the music is perfect. Well, see for yourself.
I have all his music, from
Naked Without
to the
Rise EP
to
Back To Love
. There is also the
Politics of Love
, a few cover songs I got from the website. But best of all, I have seen him play in the Philadelphia and DC areas many times, and even made a show in Rehoboth Beach, Delaware! I knew he was in the studio, and wasn't sure he'd have the time to answer my questions, but he did. We had a great interview for the release of his
Lover
video (
here
), so I was hoping this would be fun. What I wasn't ready for were his answers!
Well, I asked my pleasant friend what his favorite holiday song was. His answer was rather short and sweet. "I don't like Christmas music!," he said. Hmmm. I'm doing a holiday post and that is his answer? So I asked if he had a favorite holiday classic to perform. "None!" was the answer. So, I asked him if he was Mr. Crankypants today, or maybe the Grinch. He responded with "The way I feel is that if Christmas songs were actually good we would listen to them all year round..." So, I told him I was quite fond of the song he just released,
Christmas, Chicago Time
. After all, I had purchased it, and listened to it several times since, still liking it! Turns out Tom had an answer for me. "Hahaha," he laughed, "yeah, I like that one too! But I like it more because it's less Christmas song and more pop song." I guess I'll have to give him a bit on that one. But I will have to remind him of something he did last year, a Pop tune going by the name
White Christmas
...
I decided to let it go - I know, asking follow-up questions and clarifications isn't exactly letting it go, but I am taking poetic license, alright? So I move on, ans ask him what he'd like to see in the New Year. "I'm looking forward to figuring out a way to relax and spend more time with my husband." I am happy, I have my sweet Tom back.
Since there is apparently no holiday music on it, what does Tom have on his iPod, what current music is he listening to now? "Gosh, I don't know," he replied. "I didn't buy much music this year but did listen to a lot of The Fray/Sonya Kitchell in the car so that narrows it down mostly." And since I figure now would be a good time to run another video, and apparently I still haven't let go at all, I thought I would add a holiday song from The Fray,
Happy Christmas (War Is Over)
.
So I ask, is there something he is looking forward to musically in 2011? "I'm excited about the new album, touring and seeing you more!" and wouldn't you know it, he makes me smile. I, too, am excited about the new album, which he is recording as I type, and a show in Philadelphia in March, and a tour starting in April. When I asked how the recording was going, he laughed and said "well, sounds fun! We're rockin' out hardcore, some of these tracks are going to get people jiving and juking!" Can't ask for more than that, can you?
To listen to or purchase Tom's latest "Pop" tune, (yes, I'd call it a Christmas song)
Christmas, Chicago Time
, you can go
here
. You can find his other music on that page too. You can go to his official website
here
, and hear some of his fantastic music. You can also find him on FaceBook
here
, where he gives updates on the recording process. Can't help it, still love Tom and his music, but after this interview, I would say I have a bit more respect for Mike... (Just kidding, you know I love ya, Tom!)