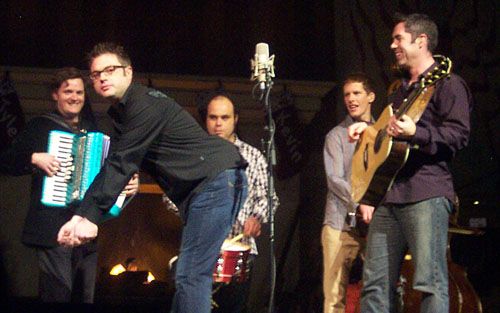 The band is irreverent, clever, silly, and self-deprecating, and also has some fun music that is full of joy and hooks. Barenaked Ladies are Jim Creeggan, Kevin Hearn, Ed Robertson and Tyler Stewart, a Canadian band with a couple of hit songs, including
One Week
, which went #1 in the US and all around the world in 1998. In 2004 they released
Barenaked for the Holidays
, and I love it very much. If you don't own it, you should.
The first video I will run is their original song,
Elf's Lament
, an irreverent look at the life of Santa's elves, and the possibility of an impending strike...
On the medley
God Rest Ye Merry Gentlemen/We Three Kings
, which features Sarah McLachlan, is more traditional, and just beautiful.
For more on Barenaked Ladies, check out their website
here
. You can purchase Barenaked for the Holidays at Amazon.com for $9.99
here
.