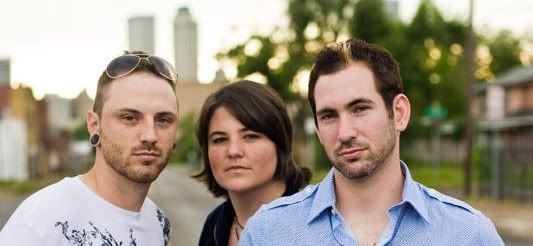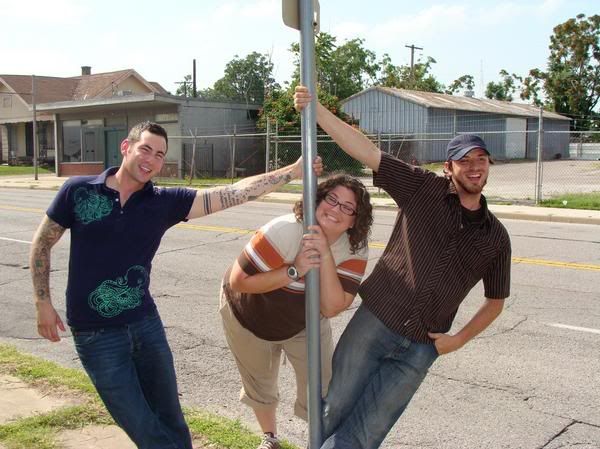 Left to right: Eric, Angel & Jimmy.
I recently asked 5 questions to some of my favorite performers featured on this blog, wanting to add a little something to the holiday season. I wanted to learn a bit more about the artists, and their thoughts on music. The first answers I had were from Jimmy Adams, followed quickly by Eric Himan and Angel Adams. It made for a no brainer, and Eric & the Adams are the first of the featured artists in this series.
Eric & the Adams is a rock band based in Tulsa, Oklahoma, where Angel Adams, her brother Jimmy Adams, and good friend Eric Himan all reside. Just about a year ago, they released their debut EP, a 5-song collection that is still in my listening rotation. Their latest video from that EP is for
Keeper of the Secret
.
The first thing I wanted to know was when they listen to holiday music, what is your favorite? "I freaking LOVE holiday music," Angel exclaimed. "My favs are the song from Charlie Brown -
Christmas Time Is Here
and I LOVE
Carol of the Bells
." Jimmy, on the other hand, was less enthusiastic. "Ha! I really don't listen to a lot of holiday music," he answered. "I did however wake up this morning singing
Last Christmas
by Wham. I think that's like the only "Christmas" song I can listen to and not cringe but I'm sure that's soon to change..." Eric had a slightly different perspective. "
Jingle Bell Rock
reminds me of the season," replied Eric. "There should be more Hanukkah songs (not the biggest fan of Adam Sandler but his
Hanukkah Song
does make young Jewish kids feel better knowing there are lots of Jewish people who they know that are famous).
Carol of the Bells
Next I wondered if any of them had a favorite holiday song to perform. "I'll perform any of them...except for that cheesy "Feed the World" song that sings something about "
Do They Know It's Christmas
time at all..." explained Angel. "I started playing
Jingle Bell Rock
," said Eric, "because it is easy on the piano (and I am still learning)." Jimmy's answer surprised me. "I haven't actually performed any Christmas songs," he said. "We (EATA) haven't really had any gigs close enough to Christmas that forced us to learn any. I'm really not sure which song I would pick if I had to. I could see us rocking out to
Last Christmas
[LOL] with some serious screaming guitars and driving drums. That would be something to hear. haha!"
Last Christmas
It seems everyone has their own hopes for the New Year. "Health," Angel answered decisively. "The Girl and I have been thinking about expanding our family so we'll probably be going full force in that this coming year." Eric also had loved ones in mind. "My hopes is to find balance in the different areas of my life (career, relationship, etc)." Jimmy's thoughts were more on the professional side. "I'd really like to expand musically," he reflected. "I've been listening to some different music; to the bass lines and chord arrangements trying to find a more jazzy side to bass playing. Also I've been interested in operating my own business. I started a couple of years ago with a landscaping business but recently had an idea of doing sound for local events. The overhead isn't too bad and it's something I'd really enjoy, and there are countless people to meet with a gig like that."
I also wanted to know what is their favorite song/music from 2010. I think Jimmy gets an award for most eclectic taste. "Wow. I didn't think this would be tough until I really started giving it some thought," he replied. "Everyone knows I'm crazy about Gaga. But after going to her concert I was a little less impressed. Ke$ha had a lot of fun songs on her album that we made good use of. Nobody gets tired of the synth sounds and party vibe that her songs put out. But what I've really enjoyed listening to is The Dirty Heads. They had me hooked with their first single,
Lay Me Down
, and I bought their album immediately with no disappointments. Which leads me to the reforming of the band Sublime, now called Sublime with Rome. I'm always glad to see a band able to get together and play music after the passing of one of their band members, whether it's as good as the original or not. At least they're still playing." His sister was a bit more concise. "OMG!" answered an excited Angel. "I discovered so much music this year. Florence and the Machines...love them. There's so much music out there. I can't narrow it down." Eric, who took time to answer my questions while he was working on his next solo project, was also quite specific. "My favorite song from 2010," said Eric, "is
Try
by my friend and fellow singer/songwriter, Namoli Brennet (off her CD,
Black Crow
!)"
Jingle Bell Rock
And, finally, I wanted to know what they were looking forward to musically in 2011. "I'd like to see Eric and the Adams write a full album and maybe record an EP and tour like crazy," said Jimmy, smiling. "There's nothing I like more than seeing new places and playing music. This year took us up and around Pittsburgh and Penn State but I'd really like to go farther East, and the West Coast has been calling my name for quite sometime. I've been to L.A. once in my life but not for music. I'd really like to see us tour both coasts." Angel agreed, adding "I would LOVE for us to tour more. I would also LOVE to have a full-length album written. It would be incredible to think that we were touring with a national act. I think I would most love to know that we were able to put ourselves out there with our music...writing new stuff and people liking it." Eric's thoughts were on the music he was working on then. "I am looking forward to releasing the new material I am now recording in Tucson, Arizona. These songs seem to bring up a lot of things I have left out from my past songs and dig into the dark of me."
To learn more about Eric & the Adams, be sure to checkout their official website
here
. You can find their schedule there, and can purchase the EP.