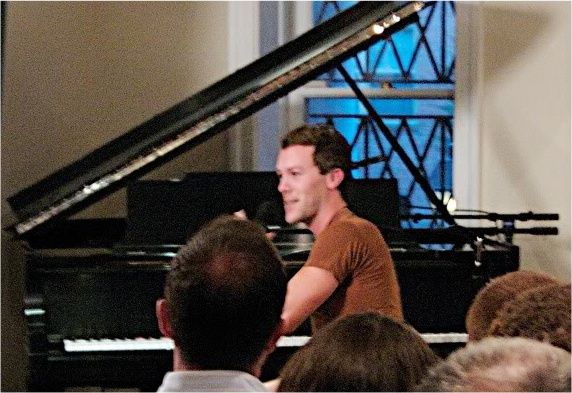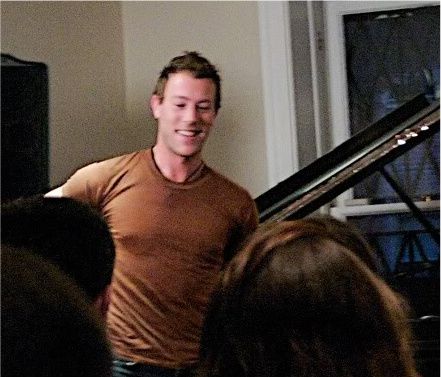 The final stop on the Holiday Visit schedule is in California, although we won't be spending time on the beach, enjoying the sound of the surf and the warmth of the sun. You see, we are visiting with Jake Walden, who is spending 12+ hours a day in the studio working on his new album. I first met Jake when he was playing with Tom Goss. Twice, as a matter of fact. I saw him touring with Tom and Stewart Lewis as part of the Rock The Folk Out tour, which I caught in Philadelphia. I also saw him playing with Goss in Washington, DC, at the beautiful Artists Inn Residence.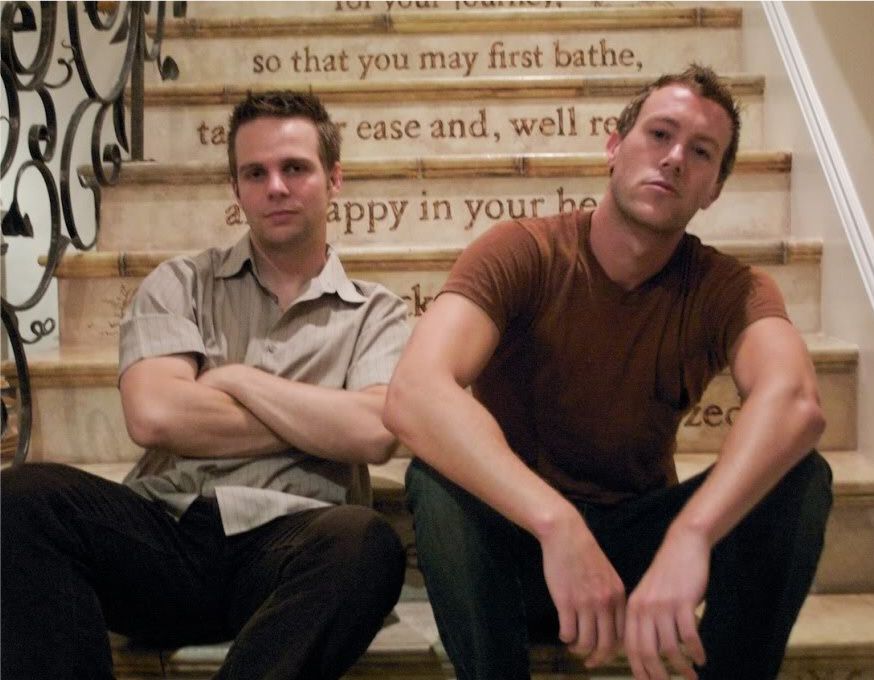 Jake with Tom Goss in Washington, DC.
I quickly discovered Jake's music to be a combination of silky smooth thoughts on love and smoke-tinged pleas of hope, hurt, and life. Jake slides with ease up and down the range of his voice, bringing the emotional baggage of joy, love, fear and melancholy with each phrase. But speaking from the heart is exactly what Jake does best. Here is a video of Jake's single,
For Someone
.
Since Jake was busy with in the studio, I thought it best to get straight to the questions. What is Jake's favorite holiday music? "This is easy," he told me. "In my family the only album that plays during Christmas is The Carpenters album. Nothing compares to it. And for as long as I live it will make me think of my Mom. In fact, when I imagine what next week will be like at home, I hear the songs..." Well, as Jake will soon be making his way to his family, I might as well get him ready with a clip of The Carpenter's
Have Yourself A Merry Little Christmas
.
Does Jake have a Christmas song he likes to perform? "As far as songs to perform, I don't know yet. I dabbled in Christmas music recording and releasing
I'll Be Home For Christmas
this year and believe I will do a full album for next year (which we record in the summer...very bizarre). Anyhow, ask me next year. I can tell you it will be a longing melancholic ballad though!" Now, of course I will not be able to resist showing a clip of Jake's Christmas song recorded earlier this year.
When I asked about what are his hopes for the coming year, Jake answered, "If I say it out loud it won't come true!!!!" I would have to think the fates would have a hard time saying no to this handsome and charming man, But I'll let him have his way. To just add a bit more holiday flavor for Jake, I thought it would be nice to bring back Karen Carpenter, singing
White Christmas
.
Again, I need to find out what music might me on Jake's iPod. Only seems fair, since I admit his music is on mine. So what did he think was some of the great music from 2010? "Favorites are, among others," he said thoughtfully, "Audra Mae's
The Happiest Lamb
; a few choice
Glee
songs; Brandi Carlile
Give Up The Ghost
; Christopher Dallman
Never Was
, especially the songs
Ghosts
and
Subterranean
; and Garrison Starr
Sit with me tonight (live)
. A lot of mainstream pop and even some country too, but these are singer/songwriters doing incredible work from inception to record."
Since being in the studio seems to put Jake into the contemplative mood, I asked about what his goals musically in 2011. "I am looking forward to traveling the country and world with a full band'" he replied. "I am looking forward to creating a highly dynamic show that still makes you cry but also makes you smile and soft rock out! Musically, I'm excited to put out on the stage what I spent 2010 learning to do. I have never been as excited as I am about a new year." Well, with the new album, and a support tour, there is certainly much to get excited about. I will be looking to seeing him when he makes his way East, and expect to do lots of cheering, and getting a big hug.
Before ending the interview, Jake was kind enough to offer a few kind words in my direction. "Thanks Howard for all you do," he said,"for all your support and words and most of all for being you." Well, that certainly made me feel warm all over. And he most definitely wanted to wish a big "Happy Holidays" to the readers of the blog. As this is the last installment of the series, I wouldn't mind taking the opportunity to say my own thank you to Jake and all the rest of the artists who make the music that keeps me blogging, and take the time to answer my questions, and deliver the music that entertains us all. And I will end with one more song from Jake, another of my favorites. It is
We Are
, with a little help from Stewart Lewis.
For more information about Jake Walden, be sure to check out his official website
here
. If you go there, you can find all kinds of fun stuff, including shots of Jake getting a tattoo!