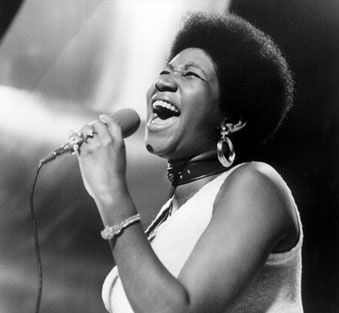 The Queen of Soul. Sure, through the years, the hairstyle might have changed, but one thing that didn't was the unmistakable voice that rose from those lungs. Ms. Franklin was a minister's daughter who was born in Memphis, Tennessee, but moved around a bit in her childhood before the family settled in Detroit, Michigan. She sang in the church choir from a young age, and by her teens, was regularly given solos. Next month marks the 50th anniversary of the release of her first album on Columbia Records,
Aretha (with the Ray Bryant Combo)
. It was a jazz-inspired pop album.
In March of 1967, she released her 9th studio album, and her first with Atlantic Records. The album took it's name from the first single,
Never Loved A Man (The Way I Love You)
, which went to #9 on the US Billboard Hot 100 chart. The album was certified platinum in sales. It seethed and sizzled with trademark Aretha vocals, exploring her range and emotions every step of the way. I feel so lame speaking about the gift that is Aretha Franklin, so excuse me if there is more music than typing here. She just leaves me speechless.
The third single off the album not only made the Top 10, it went all the way to #1. It also became a trademark song for the singer, who had a career filled with vocal performances that were without equal. But with the first bar of
Respect
, everyone knew it was Aretha's song being sung. It earned Franklin the first of 18 Grammy Awards (20 if you include Special Grammies she has received) in 1968.
Late in 1967, Atlantic released a single prior to the album
Lady Soul
. The song was written by Carole King, Gerry Goffin and Jerry Wexler, written for the Queen of Soul to sing. That song was the amazing
(You Make Me Feel Like) A Natural Woman
, which reached #8 on the Hot 100, and kicked off the album quite well.
Another single off the
Lady Soul
album,
Chain of Fools
, was an obvious hit from the start, and had classic written all over it. Franklin won her third Grammy in 1969 for this performance.
Written by Franklin and co-writer Teddy White,
(Sweet Sweet Baby) Since You've Been Gone
marks another performance that is impossible to top. It is yet another song off
Lady Soul
. It made it to #5 on the Hot 100 and #1 on the Hot Rhythm & Blues chart, and helped the album go #2 on the Billboard Pop Album chart.
Earlier this week, it was announced that the Queen of Soul is battling pancreatic cancer, and if there is anyone out there that could win, it must be Aretha Franklin. She has the soul, heart and bravado to take it an and keep on singing, entertaining us all. In the meantime, she will remain in my thoughts and in my heart.