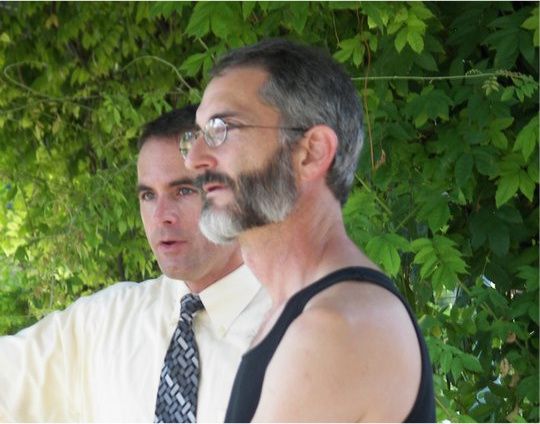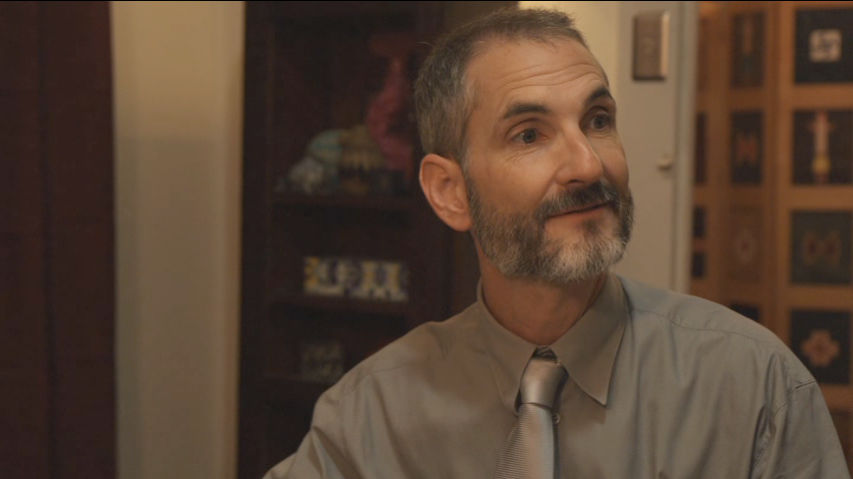 The pictures above show you filmmaker Paul Bright, the director/producer/actor of such fine independent films as
Aaron...Albeit A Sex Hero
,
Angora Ranch
,
Theft (of the Drag Queen's Wig)
and
Altitude Falling
, as well as the soon to be released
Abrupt Decision
, hard at work. The films made by Silly Bunny Pictures are about the average men and women of the American Heartland, especially the hot gay ones.
So, as I was planning this holiday series, I knew I wanted to include Paul, but had to change up my questions just a bit. And, even as Paul is still working on his latest,
Abrupt Decision
, which is set to premiere at the Berlin Film Festival in February and, by the way, seems to continue the trend of making hot, sexy films, at least if the stills are any indication.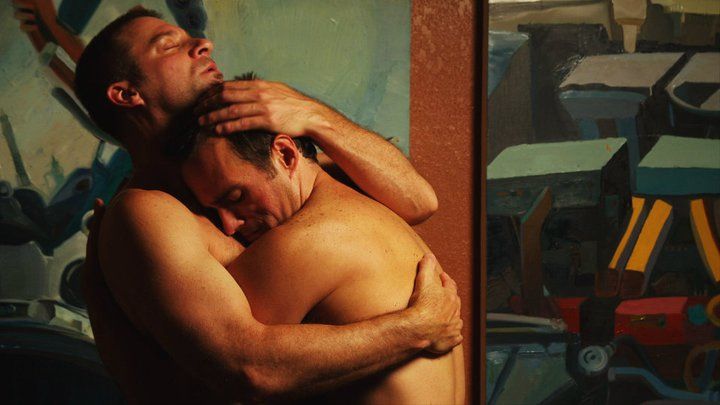 Oh, yeah, there are the holiday questions. Sorry, was a bit distracted... So, it only makes sense I ask Paul what his favorite holiday movies are. "My absolute favorite Christmas movie," he tells me, "is
Holiday Inn
with Bing Crosby, Fred Astaire, Marjorie Reynolds and Virginia Dale. The remake
White Christmas
is a sappy attempt by Hollywood to make more money in my opinion. I love
Holiday Inn
not only because of the film, but when I was a teenager our family car broke down in a tiny town in the high desert of California and we spent five days in a motel before the suburban was fixed and we could home to Albuquerque for Christmas.
Holiday Inn
was on TV. It was a fantastic escape."
Are there any holiday tunes he'd like to use in a movie? "I satirized
The First Noel
in
Theft (of the Drag Queen's Wig)
," he told me. "
Silent Night
would be useful during a bomb sequence in a war film. I hum the theme song for
The Grinch Who Stole Christmas
all season long." Well, I typed in "The First Noel drag queens" and YouTube gave me *NSYNC near the top, so I just had to do it...
What would Paul like to see in 2011? "I have so many hopes for the year ahead," he replied earnestly, "but my biggest hope is for us as Americans to step back a moment and begin talking through disagreements and working toward understanding conflicting points of view instead of just yelling at each other and fortifying our defenses."
Since I had my opportunity to ask the multi-faceted cinema talent any question, I would be remiss if I didn't ask him his favorite films of 2010. "If I said my favorite movie was
Burlesque
you'd never speak to me again." he answered as only Paul would. "You know there were some really good movies this year that I enjoyed a lot, though none of them blew me away."
In honor of
Abrupt Decision
opening in Berlin, I thought I would offer up a delightful version of the German carol
O, Tannenbaum
as sung by the Vienna Boys Choir.
What does 2011 have in store for Paul and Silly Bunny Pictures? "I'm looking forward to making two feature films this coming year and sharing with everybody
Abrupt Decision
, the movie we shot in August."
"It's interesting to think about Dan Savage's video campaign for
It Gets Better
which inspired a lot of us to tell our stories of triumph and hope. I think the media and viral surge of interest in these videos is more than about gays being harassed, or teenage bullying, but is really about all of us yearning to stop the vitriolic discourse between adversaries. I think we're getting tired of fighting. We hoped Obama would be the peacemaker, and his assault by allies simply shows our frustration with the world as it is."
Here is a little behind-the-scenes peak at
Abrupt Decision
.
For more about Paul's movies, check out the Silly Bunny Pictures website
here
, which only recently has been updated. You might also want to check out the website for Water Bearer Films
here
, who distribute Paul's work. They have tons of great movies, and they are incredibly supportive of LGBT filmmakers.