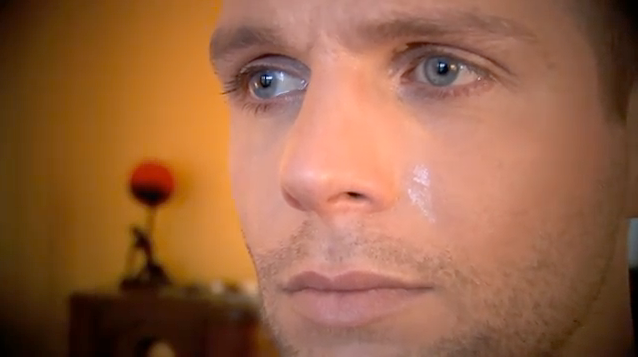 On Monday, I ran a preview of Tom Goss' latest music video, for his song
Lover
off the
Back To Love
album. Tom was good enough to take some time out of his busy schedule and talk to me about it while putting final touches on it before the big day. Before I start, I want to be honest and say I am not only a fan of his music, I am also a big fan of Tom Goss, the man, whose honest voice and beautiful soul is so inspiring, and one I am lucky to call my friend. That said, let's start talking to Tom.
Lover
is his fourth music video, joining the video for
Rise
from his
Rise
EP,
Till The End
from
Back To Love
and
You Don't Question Love
from the
Politics of Love
EP. The video was filmed in Washington, DC, and Alexandria, Virginia. It is directed by DC residents Aram Vartian and Michael Key of DC; Dylan Comstock is director of photography.
When I asked him about the idea for the video, he told me, "I knew that
Lover
needed a video. I would see all the videos online that use the song – there are like 100 of them on YouTube – and just knew I had to make it.
"I'm a very relaxed guy," he said, as I agreed. "One of the reasons it took so long to release this video is that it had to be something so much bigger than I had done before. So exciting. I kept bouncing ideas off people for the video and none of them seem to stick." He continued, "A friend was writing a screenplay for a film about two soldiers – the Don't Ask, Don't Tell (DADT) theme – and he kept using the lyrics for
Lover
to explain it to me. I started to see it, and I had to call him and tell him 'I hope you don't mind, but I am stealing your story,' he laughed."
I asked Tom more about the early process. "Aram, Michael and Dylan are cinematographers at heart. I think mainly about the story and the music, while they think about images. We had to figure out how to make it all go together. But I think a more powerful story is the result.
"There are things I've never done on video, like the crane," he said enthusiastically. "It was exciting. There is a scene where we start with a close up on my face in the grass and zoom out. I had all these new visual angles in my mind, and just needed to figure out what to do with them. And we had a blood specialist – how cool is that?"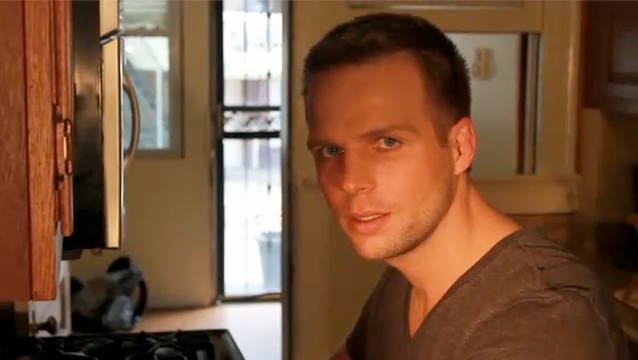 I asked him about the three-day shoot. "It was easier than I thought. I knew I didn't want to hide behind an instrument on this one. I wanted to be open, honest and vulnerable, so I had to get out from behind the instrument. But I'm no actor, so that was a little scary. Both stories are told on parallel tracks; me at home without my lover and him fighting a war. There was this intense, long scene, and it was just so," he paused before adding "intense. It was just me in the scene, and it seemed so long, but I had to sell the scene and tell my story. That was hard. I had to stay intensely focused. For me, it was a new role, as an actor."
I had to ask the obvious question, is this a new political Tom Goss? "Although it's political, it's a love story at its heart. It is reality. At the end of the day, we just wanted to tell a story. It's real. The video tells the untold story of what DADT really does to people.
"When I wrote the song with Matt Alber (
Who We Are
), I talked to a lot of people," Tom explained, "and heard this story time and time again. It's (DADT) bullshit, but that is the reality. This video is not about politics, it is reality. I had to trust I could find the most successful way to tell their (gay soldiers) story, for their reality to be honored. I hope we managed to do that."
I asked about the realism of the video. "With me and my 'lover', (played by Ben Horen), there are three soldiers. They are the real deal. Mike Almy, David Hall and Danny Hernandez were all discharged because of DADT. We were always telling them 'if you see us doing something that isn't real, tell us."
The video is released on YouTube, and will be sent to LOGO and all the other major networks. With that in mind, Goss told me, "We will see who will be brave enough to show it." Here is the video.
While I had him on the phone, I wanted to catch up a bit on new music, and his life in general. " The last year has been so heavy and political. With the release of
Who We Are
,
You Don't Question Love
, and now
Lover
, it's been heavy and I'm exhausted. So the new album is lighter and pop! I am trying to inject the fun back into the music.
"My life is amazing and so fun," he continued, "full of love, full of happiness. I live in DC, where it is easy to be gay. I can get married and have a house. The last year for me has been about the things people are struggling for; equal rights, marriage equality. I have what people are struggling for, and sometimes I feel guilty about it."
In the midst of this talk of his 'heavy year,' I asked him about a special event. "The wedding (to husband Michael Briggs) was amazing. I am so, so happy. We had family coming from all over for it, but afterward, they went home. That was a little sad, because I just wanted it all to keep going."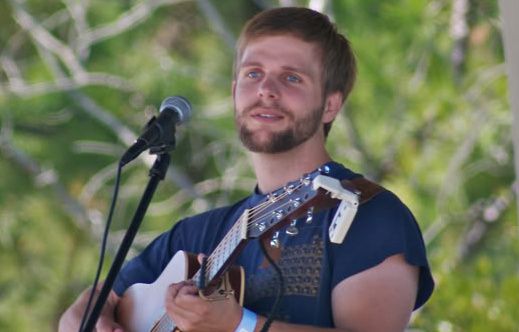 He is back on the road in March, with a show in Philadelphia. In April, he will kick off a 50-city tour to support the new album.
Lover
will be available for purchase on iTunes in 6 to 8 weeks. You can visit Tom on the web
here
. You can purchase Tom's music at the store on his site, or you can check him out on iTunes
here
.