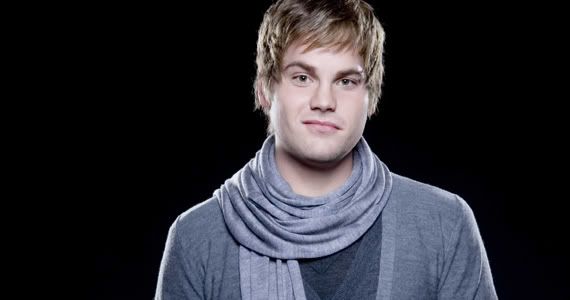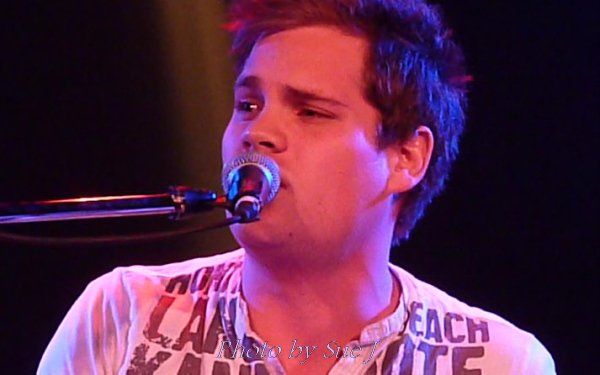 Well, it should come as no shock to anyone that my next subject is in my list of favorites. In 2008 he was named winner of Canadian Idol, and can truly say his is the only winner of that brand that I listen to. He is still the only franchise winner to be out during the run of the show, which is impressive. I didn't see the show, and only became aware of his music with his debut album,
Give It All Away
. I caught the video for
Lazy Lovers
online, and was hooked. I got my import CD, and when I talked about it on this blog, named it one of the very best Idol-related albums I had heard, world-wide. I so enjoyed his music, I drove to Toronto this past summer to see him performing live, my first ever trip to Canada. I had seen the video for
Wait For You
, where Tams made the gutsy choice to shoot it live, creating a new version of the song off his debut.
Well, the trip was quite worthwhile, for I not only got to meet several other Theo fans, now my friends, I also had the chance to meet Theo, and he is even more charming and sweet in person than I thought he would be! And I had the chance to hear some new music live, which certainly enhanced the trip. So, when it came time to put this series together, I had no choice but to ask him about his favorite holiday music.
"By far my favorite Christmas Album is
Home For Christmas
by Amy Grant," Theo remembered. "It speaks volumes about the family that I come from. My sisters would always belt out these songs at the top of our lungs while Mom and Dad would drive us around looking at Christmas lights." Well, I would be just a Grinch if I didn't help recapture those memories, right? So here is Amy Grant singing
Grown Up Christmas List
.
Knwoing he had written a Christmas song, I couldn't wait to hear his favorite holiday song to perform. I was a bit surprised. "
Do You Hear What I Hear
was always my favorite Christmas song," he answered. "I finally got a chance to record it as a duet with another emerging Canadian singer, Ali Slaight. It went to number 1 last year which was a craaazy great Christmas gift," he said, laughing. Here is the video for the song, made to raise money for the War Child charity, offering assistance to children affected in areas of conflict, and post-conflict. You can check out War Child's website
here
.
As I asked the others, I was eager to know about his hopes for the New Year. "To keep on keeping on," he answered. "Simple as that. To find more balance. To make more melodies, and tell more stories." I think that is what many of us would like, my friend.
Trying to dig into Theo's iPod, I asked what was his favorite song and/or music from 2010. "That's hard," he said, thoughtfully, "there has been a lot of great music this year. I would have to give the edge to Lady Antebellum.
Need You Now
has struck a chord with a lot of listeners, the vulnerability is exposes is very human."
With 2011 on the horizon, I wanted to know what he was looking forward to musically. "Working on the new record already, so 2011 will be writing, recording, and waiting (not patiently!)," he said excitedly. "Then it'll be a bunch more touring which I love - life on the road brings me closer to my fans and those are always very special times. I feel like I am meeting more family every day - what a wonderful part of this crazy journey." I had mentioned before he had written, with Luke McMaster, Simon Wilcox and Greg Johnston, so I thought it might be nice to hear it now. The name of the song is
Christmas Dream
, and it is quite lovely. This video was recorded at a radio interview Theo had, which also raised money for abused and neglected children.
Theo is currently hard at work on his follow-up album, due out in the new year. I, of course, will be eagerly awaiting that one. And, hopefully, the tour to support it, when I might be making my second trip to Canada! You can find more about Theo at his official website
here
. You can also find him on FaceBook
here
, and Twitter
here
. And, quite regularly, you can find him playing on my iPod!