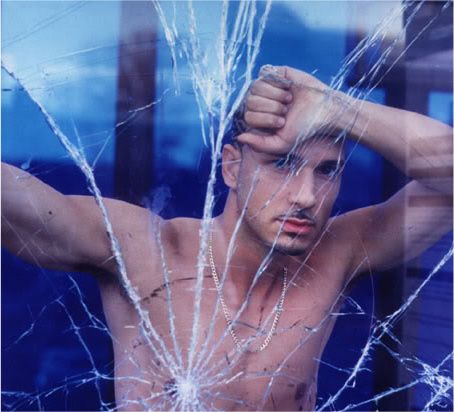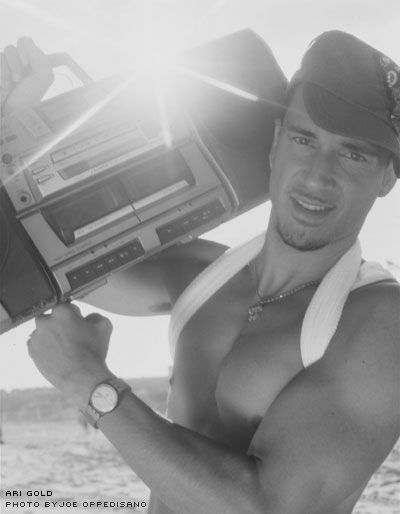 Born in the Bronx, Pop singer/songwriter Ari Gold was 'discovered' when he sang at his brother's Bar Mitzvah when he was just a child, and has not stopped making music since. Gold has been been open about being both gay and Jewish, and how his homosexuality effects his religion. His music has spoke to both since his first album, the eponymous record released in 2000. One of my favorite of his songs is from that release,
Wave Of You
. The video is a beautiful homage to Herb Ritts, utilizing Ari's natural good looks and sexiness perfectly. It continued on with his 2004 release,
Space Under Sun
, which included the sultry dance hit,
Love Will Take Over
and the soulful ballad
Bashert ((Meant To Be)
. In 2007, he released
Transport Systems
, which featured the epic dance hit
Where The Music Takes You
, the hypnotic cover of the Human League's
Human
, and aching ballad
I Can Forgive You
which stayed atop the LOGO video charts earlier this year for several weeks. I was directed by Christopher Ciccone, brother of Pop icon Madonna.
Most recently, Gold took part in the charity single for The Friend's Project, to raise money for the Ali Forney Center, a NYC shelter for homeless GLBT youth. He sang with singer/songwriter David Raleigh, Tony Award Winner Alan Cumming, Broadway actor/producer/singer, Billy Porter on the song written by Carole Bayer Sager & Burt Bacharach, and originally performed by Dione Warwick and friends,
That's What Friends Are For
. Dione's friends included Gladys Knight, Stevie Wonder, and Elton John.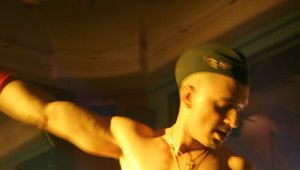 So it is time to get to business here, to the task at hand. I asked the attractive Jewish man what holiday music is his favorite? "Mariah Carey's
Merry Christmas
," he answered without hesitation. "This Jew knew very little about Christmas songs until this album and I still can't think of a better version of
O Holy Night
."
OF course, that lead me to the next questions, does Ari have a favorite holiday song to perform? "
Christmas Time is Here
from
Charlie Brown Christmas
," he replied. While I would kill to have a video of him performing it, I can't find it, so I will have to settle for a clip from the television special, and in my mind picture Ari singing.
When I asked what were Ari's hopes for the New Year, he took a moment before offering an answer. He hopes "that I find balance between the spirit and the flesh," a weighty thought, indeed. After all, isn't that what life is all about?
Since I am fascinated by what artists listen to when they are not in the studio, I asked Ari what is his favorite song from 2010? He answered quickly and decisively, "
Only Girl (In the World)
by Rihanna." The song is a recent single from the Barbadian singer's album
Loud
. With this year spoken for, what is Gold looking forward to musically in 2011? "My 4th album," he answered proudly. "
Between the Spirit and the Flesh
" is coming out!!" I know I'll be looking forward to that release! Before I go on, I thought I would bring in a few memories for Ari, and sort out another Mariah Carey holiday classic,
All I Want For Christmas Is You
.
If
Make My Body Rock
is any indication of what is going to be on
Between the Spirit and the Flesh
, it will be one hot album! To check out the song, you can either visit my post about it
here
, or check out Ari's official website
here
, where the video is on the home page. And you can be sure I will have to discuss the new album and any videos once they are available!