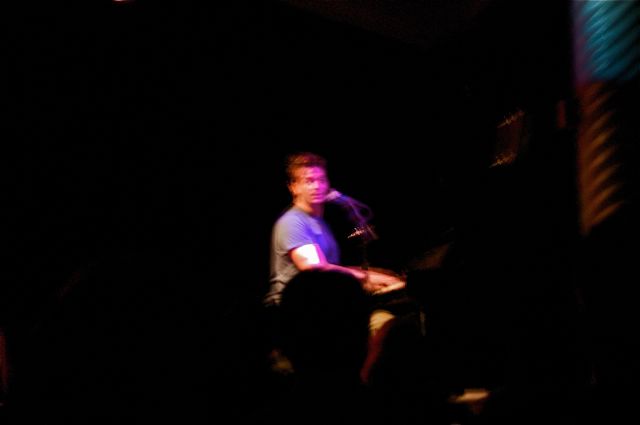 Next Monday, I will be attending
An Intimate Evening with Levi Kreis
at the World Cafe in Philadelphia, and I can't wait. Levi's special guests for the evening will be the amazing Eric Himan, as well as the handsome Jason Antone. I was lucky enough to see the show at a previous stop, in Vienna, Virginia. I was lucky enough to be joined at the show by my friend, Tom Goss, and his husband, Michael Briggs. I picked Tom up at the airport, and Michael met us at Jammin' Java. With the help of Tom & the GPS, we were able to make it there in time to order some dinner, despite my own directionally-challenged self. I have to admit I went prepared, with a videocam and camera, and the video was a bust, and my pictures unspectacular at best.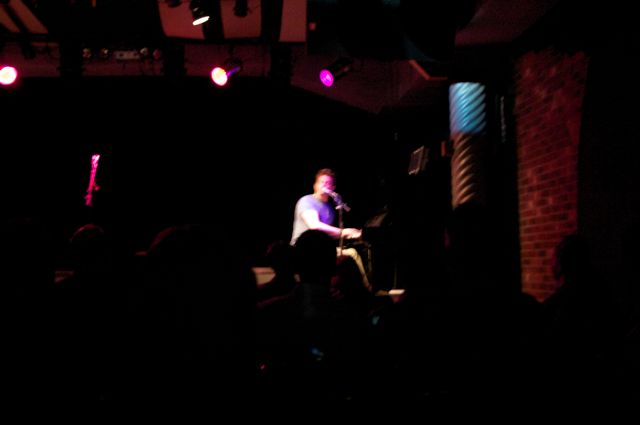 We found our way to the seats, and settled in by the time Jason to be introduced and make his way to the piano. I was interested in this, as I know he tends to sing electronic dance-pop, but he performed a lovely, albeit quick acoustic set accompanying himself on the piano, including a beautiful cover of the Tears For Fears song,
Everybody Wants To Rule The World
.
I was a bit surprised, but next up was Levi Kreis. He made a beeline to the piano, and started playing right away, kicking in to a cover of Bonnie Raitt's
I Can't Make You Love Me
, an amazing song. Levi played a nice long set, with plenty of banter between songs as he took us through a nostalgic trip of his life, from life as a youngster to some of his musical highlights. It certainly was an intimate evening, with the audience learning much about Levi and what has brought him to this point in his career. This includes his thoughts on being on the first season of The Apprentice, not as a contestant but as part of a challenge. That brought about his first album,
One Of The Ones
, which included the beautiful ballad,
With You
.
In the trip down memory lane, he spoke of
The Gospel According To Levi
,
Bygones
, and the latest album,
Where I Belong
. There was plenty of great material from those album to give a full evening, and when pared down, it is quite the soulful tour de force. Levi has a voice that can soar to greater heights, and just as easily touch your soul with a whisper. Take, for instance, his performance of his last single,
Nothing At All
, which was #1 on MTV's LOGO network.
Toward the end of his set, he spoke of his great respect for Eric Himan not only as an artist, but also for his strength to tour so strongly, packing in crowds across the country. They toured together a couple of years ago, before Levi was involved with
Million Dollar Quartet
, and before the Tony win. So when Levi decided it was time to hit the road again, he wanted to tour with Eric once again. But Levi was taking an online class, and needed to be back in his hotel room, so after introducing Eric, he would be venturing to the merchandise area, where he would chat and autograph CDs.
I will admit this threw me a bit, as I love Eric, and could never be moved from my seat while he was playing, and figured this meant I would not get a chance to see Levi. But I would be getting to hear Eric sing live, which is always a highlight to my week. And, once again, Eric did not disappoint. He played some o fhis set on the guitar, and some on the piano, as his latest album,
Out With The Old
, features Eric reworking some of his previous material on the piano, which is fantastic! I love the piano version of
Frozen In The Sun
, a song from the Eric & the Adams debut. Included on the album is a new song,
Gonna Make It Work
, which you can see/hear in this clip.
Eric's set included his great original material as well as a few cover songs, and as is always the case, Eric was in great voice. He just has so much great material, I am betting I could see him weekly and never tire of his show. One of my favorites (and I have at least 20 songs I consider favorites!) is from the
Resonate
album,
We Are The Same
, in this clip sung with the amazing lesbian singer/songwriter, Andy Moore.
After the show, I did miss seeing Levi, but did manage to see Eric and get my picture taken not only with him, but with Tom as well. Being the ultimate in geeky fans, I did mention I still think Tom & Eric sing a duet on The Monkees'
Last Train To Clarksville
to be one of my all-time faves, so I needed to get a picture of them as well!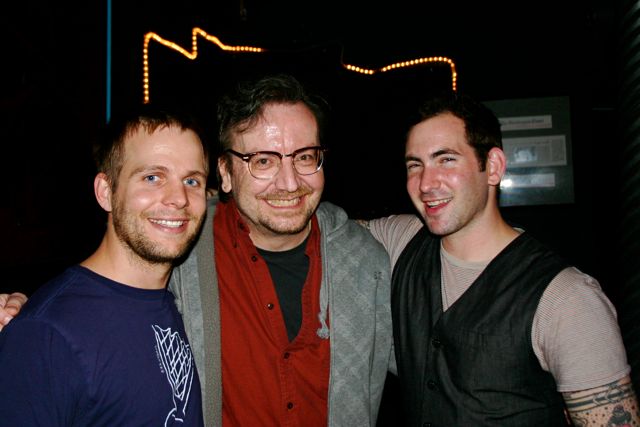 So, I am very much looking forward to seeing Jason, Eric and Levi in Philadelphia on Monday, January 3, 2011 at the World Cafe Live! If you are in the area for the show, I would say you have got to make it there. Click
here
for tickets. For more about Eric Himan, check out his website
here
. You can find Levi Kreis on the web
here
, and still see him 8 shows a week on Broadway in
Million Dollar Quartet
. You can find Jason's official website
here
. I'll be there with my sister Kathy, my niece Mandy, and cousins Margie & Eileen. And I hope to be having better luck with my pictures and videos, and will be sharing them with my readers.
The show has added another date, this time in New York City. They will be playing at Joe's Pub on February 28, and anyone in the area should definitely be checking that out
here
!