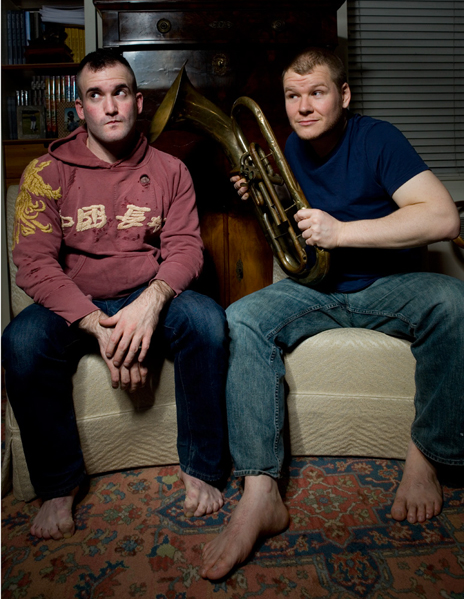 Top & Middle: Alex Horwitz, left, & Lee Waters, right. Bottom: Me in an Alex & Lee sandwich in NYC.
Now, it should be clear to anyone who even stops by the blog on occasion that I am wild about Archy & Mehitabel, the intense, quirky, stylish and talented duo who perform their own variety of Avant Pop. Lee Waters and Alexander Horwitz the the men behind the moniker, and a truly talented pair they are. I am not sure exactly how I stumbled across them, but I certainly remember when I first experienced the music. I caught a YouTube video of the boys during a rehearsal, and I basically was stopped in my tracks. Alex was on the piano, and Lee was at the microphone, and they laid down an incredible song in one take, and it was perfect. The song,
Hammerspace
, is still one of my favorites, although I suspect I would have a tough time coming up with a real favorite at any given moment. I am just that crazy about the music. But from the moment I saw this video, I have been a fan, one that hasn't been disappointed, instead have found the boys to impress me more with each new song. But this is
Hammerspace
.
So, of course, I wanted to make sure Lee and Alex were a part of this holiday trek, and to my delight, they agreed to take part. In fact, they said they were "Happy to do it." And I am happy to tell you all about it. But if you are expecting the usual answers, I would suspect you might want to stop reading now, for these boys are anything but usual. Take, for example, when I asked the first question, about their favorite holiday music. The answer was simple, just three words. "
Shedrik
by Charivna." Somewhat at a loss, I looked it up, and discovered that this is a version of
Carol of the Bells
by Charivna, performing the Ukrainian folk song,
Shedrik
, or as the English-speaking people have come to know it,
Carol of the Bells
. Fascinating, as you can see below.
With that one under my belt, how about the answer to the next question? Do Archy & Mehitabel have a favorite holiday song to perform? "Santa Baby," said without hesitation. "Why let mommy have all the fun?" Well, they certainly have a point there. To prove it, I thought I would post a copy of Eartha Kitt singing the song, with an able assist of a couple of drag queens who I suspect might not have been in the original tape, done in the 1950s. This is Eartha, Jade, Adrella and Ebbonkee in a very special performance.
Now, with those answers already in place, I wasn't sure what to expect for the next, but I sure was interested in what the answer would be. After all, what are Lee and Alex's hopes for the New Year, which is just around the corner? "More money for more kids in more schools to make more music." That is certainly a position I could not argue with, as my niece and nephew take their music lessons in their school, but I do know they are among the lucky. And we do want to be training a new generation of musicians, do we not?
Now, what is the favorite song and/or music from 2010 for Lee and Alex? Again, a simple answer, this time consisting of four words.
Babooshka
by Miss Platnum." Well, I have to admit that once again I had to go look this one up, and watched it on YouTube myself. And, as a matter of fact, I needed to share it with you all. Yes, it is not holdiay music in the slightest, yet it needs to be seen. Miss Platnum is a Romanian/German entertainer whose style is defined as Soul/R&B/Hip-Hop, and has a very successful career in Germany. While the song is called Babooshka, the video might have been able to be called breasts, because that is mainly what I can see in the video. Enjoy this, I sure did.
As we hit the final question, while I might not be sure to what direction the answer might come, I feel a certain amount of remorse this is the end. It has been exciting waiting for the answers, hasn't it? So I ask Alex and Lee what are they are looking forward to musically in 2011. "
Die Zauberflöte
at The Metropolitan Opera, directed by Julie Taymor. W00t!" Now, in case you were wondering what in the hell is that, it is Mozart's incredible opera,
The Magic Flute
, written in 1791. A production being directed by Julie Taymor certainly something that should rank high on the anticipatory scale.
And, it is over. I am a little sad, cause I have definitely enjoyed this journey, and have learned a bit. You can ask for more, can you? So I shall end this with a video by Lee and Alex, for the song
Thank You
, as that seems to epitomize the feeling of the Christmas season, gratitude. Here it is.
For more on Archy & Mehitabel, check out their official website
here
. You can purchase
Welcome To Lübeck
on iTunes
here
. The EP is under $4, and worth three-times that.