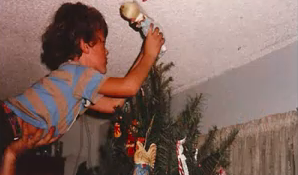 I think this might be little Jake!
Jake is currently working on a new album, but took the time to sing a little holiday ditty for us all. I think you will enjoy his version of
I'll Be Home For Christmas
. Jake had put in a request to his fans to send in pictures that inspired the Christmas feeling, and used them to create the video. And at about 1:30 to 1:32, you can see a picture I took a few years ago of the Christmas tree for our family gathering.
As you could tell, it was classic Walden, his voice in great form. Whether he is hitting the high notes or singing with that familiar husk, Jake never fails to deliver the emotion of the lyric. If you like it, you can purchase the single on iTunes
here
.