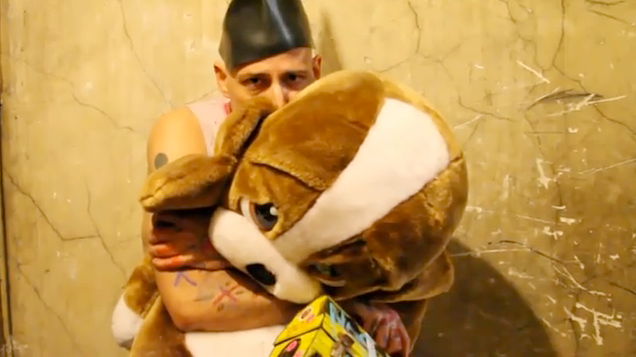 I was watching LOGO one evening a few years ago, and on came this incredible video for a great song, and I instantly had to have it. Sure, it didn't hurt that the boys in it were all gorgeous, but the song distracted me from the pretty boys, which is far from the norm. The band was Telling On Trixie, with lead singer Derek Nicoletto wailing on the track. Brad Small, Andrew Frawley, Matt Aronoff and Tommy Kessler where laying down a mean sound behind him. I did a bit of research, and soon had their debut album on my iPod, and loving every song. But the one that captured me was
Orion's Light
.
After a second album,
Ugly, Broke & Sober
, the boys in the band went their separate ways. I was heart-broken, but continued to stalk, uhm, I mean follow Derek. He went on to Derek & the Darling, and is now embarking on a solo career. He is working on his first solo album, and I couldn't be more excited!
Taking a break from the busy schedule of being a single daddy for Asher, working on the new material, and just living in New York City, Derek was kind enough to answer a few of my questions. Like what holiday music does he like to listen to? "I prefer choral and orchestral versions of Christmas songs," he answered. "The St. Olaf Choir has a CD that we play year-round because it's so fantastic." Well, I had to go check it out, and you can watch a bit of the St. Olaf Choir below.
So I was wondering what might be his favorite holiday song to perform? "I've never recorded one myself," he replied. "My stepfather is a pianist and I love singing
Silent Night
with him on the keys when I'm home in Indiana for the holidays." Too bad I couldn't find a clip of that, bet it would be fantastic!
So I asked Derek about his thoughts for 2011. "My hope is that life tosses me fewer dramatic events next year. This year has been a rollercoaster year in every aspect of my life," he explained. "The new year will be productive and creative, but I really hope to have the chance to breathe and sit with some much needed stillness and peace." Sounds like a good plan to me, Derek. To help with that, I will return to the St. Olaf Choir and the song featured in the video,
Light Everlasting
.
Once again, took the opportunity to see what one of my favorite artists was listening to on his iPod, and find out what his favorite song from 2010 was. "Pink's
Glitter in the Air
, Derek answered without hesitation.
With 2010 covered, what is Derek looking forward to musically in 2011? "I'm looking forward to Adele's newest,
21
. I'd love to hear more from Passion Pit," he added. "Personally, I'll be releasing
Kind Ghosts
, my first ever solo album." So am I, Derek, so am I!
While not really a holiday song at all, I thought I would post a copy of another video of a Telling On Trixie song,
Late So Tired
. There are two reasons I am doing it. One, because it features Derek and his son, which seems just right for the holiday season. And two, cause I love the song.
If you would like to know more about the project, or maybe want to pre-order your copy, you can check it out
here
. There you can see about helping out an independent artist make some great music, and be in on the ground level. You can also find him on his official website
here
.