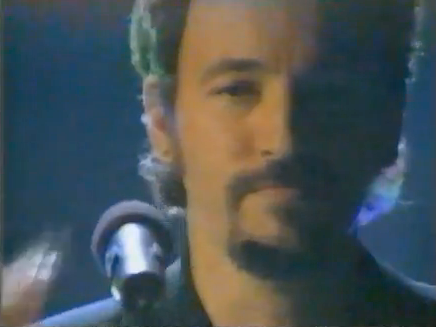 To me, one of the most remarkable songs written for a movie was written by the Boss, New Jersey native Bruce Springsteen.
Streets of Philadelphia
was written for the movie
Philadelphia
, starring Tom Hanks, Antonio Banderas and Denzel Washinton. It was the first mainstream movie to be released that included AIDs in the storyline, as well as documenting homophobia. It was released just before Christmas in 1993, which was really quite late in the game, although the studios were often wary of including themes that would make mainstream America uncomfortable. Honestly, I didn't love the movie, and thought it was a bit over-rated - for my money, the 1990 release
Longtime Companion
was a much better movie.
However,
Streets of Philadelphia
still gives me chills when I listen to it, further proof that when a great singer/songwriter like Springsteen is on his game, the results are tough to beat. The song is haunting yet truthful, and honest to the core. It is just magical.
While it topped the charts in several European countries, it only made it to #9 on the US Billboard Hot 100 chart. It did win the Academy Award for Best Song, as well as the Grammy for Best Song From A Movie and Song of the Year. You can purchase the song from iTunes, where you can get the soundtrack album, or you can find it on his Greatest Hits album. You can find that link
here
. At the moment you can get the Greatest Hits for only $7.99, a veritable steal for this 18-song collection.