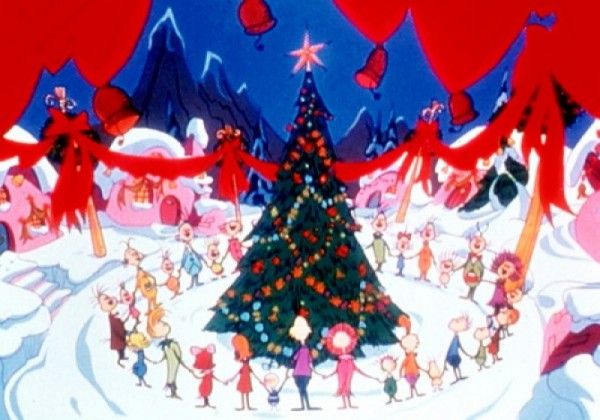 Clockwise: The Whos In Whoville; Karen Carpenter; Lucille Ball;
Wham; Misfit Toys; and
Dinah Shore & Buddy Clark.
Once again I am recapping the latest episode of Glee, only using the videos of the original songs rather than the covers. Hope you enjoy.
The recently-married Emma walks into the faculty lounge to talk to Mr. Shue, and invites him to her and Carl's Christmas Eve party. He takes a pass. Coach Bieste comes in to have the faculty pick names for Secret Santa. Will, of course, pulls Sue's name. Brittany is talking to Artie, when her shocked boyfriend discovers she still believes in Santa Claus. Soon, the kids are decorating a tree in the Glee room, singing
The Most Wonderful Time Of The Year
from
Rudolph, The Red-Nosed Reindeer
. This is a version by Andy Williams.
Mr Shue comes in, and hates that the kids are so down. He suggests they go caroling room to room at the school to raise some money for charity. They sing
We Need A Little Christmas
from
Mame
, by Jerry Herman. Surprisingly enough, it doesn't go well.
The kids figure out about Santa, and Artie makes sure they try to encourage Brittany to continue her Christmas spirit, and bring her to see the mall Santa. Brittany tells Santa she would like to have her wonderful boyfriend walk for Christmas. Finn meets Rachel, who would like to sing for him. He rejects her offer, and walks out. She sings anyway, and starts in with
Merry Christmas Darling
, by the Carpenters, written by Richard Carpenter and Frank Pooler released in 1970.
Blaine drops in on Kurt, and asks him to rehearse a song with him. He is going to sing it at a gig over the holidays. It is
Baby, It's Cold Outside
, recorded by Dinah Shore & Buddy Clark in 1949, written by Frank Loesser. The boys are coy and delightful together.
Mr. Shue stops by to see Kurt, who admits he is in love with Blaine. Mr. Shue asks for help with shopping for Sue, and Kurt is happy to help. On the way to deliver the wrapped present, Shue, Emma & Beiste figure out Sue has fixed the Secret Santa, and everyone is buying for her. Sue takes all the presents despite admitting to the fix. Sue tries to steal a Santa hat from a student, and comes in to see Bieste and Shue repossessing the gifts. Sue is angry, but Bieste claims victory. Shue calls Sue a Grinch. The boys pressure Bieste to play Santa for Brittany. Sue dons the costume and make-up, and goes to steal back the presents, while
You're A Mean One, Mr Grinch
, the song from
How The Grinch Stole Christmas
, plays. I swear it sounds like kd lang!
Brittany interrupts Sue, who placates her and sends her away so Sue can finish her pilfering. Shue and the kids come in to find everything gone, only miscellaneous bits and pieces remain. Brittany says it was Santa, who was fixing a blown bulb. It couldn't be Sue, cause everyone knows Santa is a boy. Ready to admit defeat, Finn steps up to remind them to get the Christmas spirit back. Rachel sees an opening, and tells Finn as co-captains of Glee, they must work together. They go off to get a new tree. Rachel hears the Wham song
Last Christmas
playing, so they start to sing.
Rachel admits to Finn she asked Santa for him, but Finn rebuffs her yet again, and leaves her hanging in the Christmas tree lot. Back in the Glee room, the girls are getting ready to cut their hair to sell, and the boys sell off their watches, so they can buy gifts for homeless kids. Mr Shue stops them, pointing out that it didn't work in Gift of the Magi, either. He wants them to rekindle their spirit by singing carols. The kids are unimpressed, since it didn't work out the last time... Coach Beiste stops by Brittany's house, and she has a touching scene that Santa tries to explain why she can't make Artie walk. Brittany is sad. She confesses to Artie if Santa can't make him walk, she doesn't want to believe anymore. The kids go to the faculty lounge to sing, while Artie brings Brittany home. Sue admits while she is happy to have her presents back, the best thing is breaking the Christmas spirit. Then we begin to hear strains fo the kids singing
Welcome Christmas
from
The Grinch Who Stole Christmas
. With music by Albert Hague and lyrics by Dr. Seuss.
Sue admits it is beautiful. Her heart must be growing as she listens... The kids go back to the room, and find Brittany with Artie, and Artie gets up to walk, with the help of modern technology. The kids are convinced it is Santa. We see a smile on Coach Beiste's face. MR. Shue goes home to find Sue in his apartment, and there is a tree there, surrounded by presents. Sue apologizes for stealing, a true Christmas miracle. She gives him a set of clippers, to shave the chia pet. The Glee club comes in to help, as no one should be alone on Christmas. Lovingly, Sue admits she doesn't hate the holiday, it is Mr Shue she has the problem with. They wish each other a 'Merry Christmas!'
End scene.