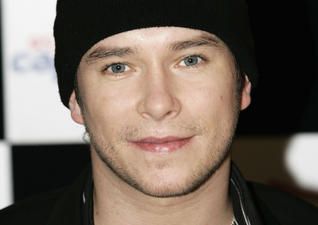 It was a year ago today that Stephen Gately left us, and I still find myself listening to his music, both his music with the group Boyzone, and his solo stuff as well. It is with Ronan Keating, Keith Duffy, Mikey Graham and Shane Lynch that Stephen first became known as part of the Irish boyband Boyzone. Ronan and Stephen became the lead singers, and Boyzone shot to stardom in Ireland 1994, and soon conquered the UK and Europe. In 1998 they had a hit with the song
No Matter What
.
In 1999, Gately broke the news that he was gay, making headlines across the UK. While it was big news, Gately was fully supported by his bandmates. However, within a year the band went on a prolonged hiatus, and both Gately and Keating went on to release solo albums. Gately's was released in 2000, named
New Beginning
, also the name of the first single. It scored well on the charts. It should have, cause I think it is a wonderful song.
The second single was
I Believe
, which was also included as part of the soundtrack to the movie
Billy Elliot
. I really loved this song.
By 2007, Boyzone was starting to think about getting back together. First there were some live appearances, and a few on television specials. They returned to the studio, and did a couple of new songs that were to be included as part of a Greatest Hits collection. One of the songs was the beautiful love ballad. When doing the video, the boys decided, in a nod to Stephen, to cast a male actor opposite Stephen, and there would be physical contact. It was quite controversial, but it made for an exquisite video. This is
Better
.
In 2003, Gately entered married Andrew Cowles in Las Vegas, Nevada. In 2006, they officially registered in London for a civil partnership. The couple were introduced by friend Elton John and his lover, David Furnish. A year ago, Stephen was excited about beginning work on a new album with Boyzone, having laid down some tracks before heading off on vacation with Cowles. It was shocking and quite sad that he passed while away.
Andrew Cowles & Stephen Gately
Sadly, even after his death, there was some controversy. A particularly poisonous and homophobic write for London's
Daily Mail
wrote and published a report filled with misinformation, lies, and stereotypical hate. Despite a report from the coroner which dispelled some of what was said, and many others, from other journalists calling it "vile" and "idiocy" to the former Prime Minister of Ireland to the record company complained about the homophobic swill. The article was removed from an Irish edition of the paper.
At the funeral, Ronan Keating gave an emotional and loving tribute to Gately, above. The band also finished the work on their album, and included the vocal tracks Gately had laid down to date. The first video was dedicated to Stephen, a loving tribute that can be seen
here
. And the band just announced that one year later, they are putting up a special webpage
here
that was a place to remember Stephen.