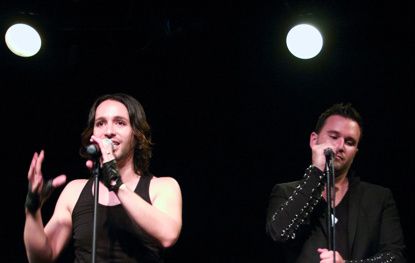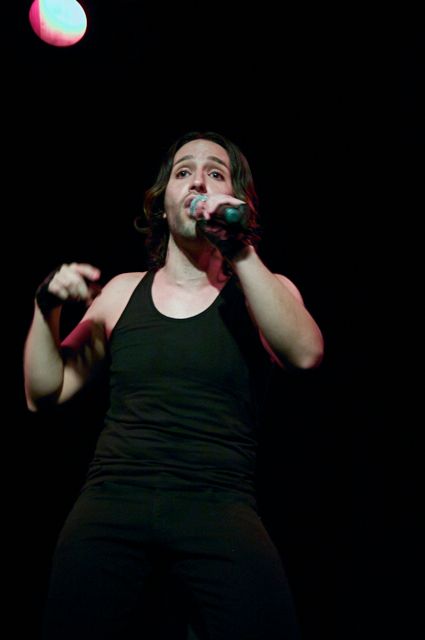 On June 26, 2010, I was lucky enough to be amidst the packed house at the Triad Theater for the SIRPAUL concert. Yes, I spoke about it already, but as SIRPAUL has released a couple of songs on YouTube, I thought it was make for a perfect Saturday night party! The first clip is
Mistaken
. The song is from the Album Music & Me, as are all the songs in this post. Handsome DJ Alex Lautenstein Was showcased in the darkness, before SIRPAUL and singer James Contrino used their flashlights to take the focus back on this great song.
You can notice SIRPAUL was not shy about coming out with new outfits during the show, here showcasing the pants designed for the NewNowNext Awards. He sings the fun
Digital World (Killed The Radio Star)
, and you can see people swaying in the front, me and my friends included.
It was quite sweet when SIRPAUL dedicated this song to his partner, Paul Petersen, sometimes referred to as 'P2.'
U
is an absolutely beautiful love song, performed amazingly on the night.
SIRPAUL mashed up his own song with one by Daft Punk. The absolute joy of
Press Rewind/One More Time
was inescapable, and had the audience loving every minute, keeping the beat with their claps. Press Rewind can be found on the
Music & Me
album.
And if you wanna talk about joy, there is the celebratory
Music & Me/Physical Attraction
. I love the song, and it certainly had the audience ready to dance in their seats, prepared to jump into the aisles and feel the beat! Combine it with Madonna's
Physical Attraction
, and you have a song that is irresistible!
Stop by SIRPAUL's official site
here
, and comment if you feel so moved. You can find
Music & Me
on iTunes
here
. It is well worth the $9.99, and will be a valued part of your collection. You can also check out SIRPAUL's new Wikipedia page
here
.