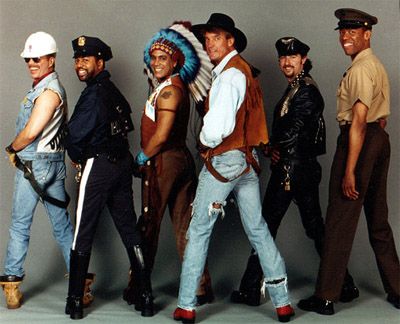 Clockwise from Top Left: The Village People, Dead Or Alive, Oingo Boingo and Culture Club.
Back in the day, you couldn't imagine having a hit song without a really good frock. Yes, I am speaking back in the 70s and 80s, when some of the costumes were a source of campy humor, or a statement to a world that might have just been ready to think about what the performers had to say. Take, for instance,
The Village People
. The Cop. The Cowboy. The Indian. The Biker. The Construction Worker. The Marine. Given this information, you might guess them to be rough and tumble me, ready for a brawl. But that wasn't the case, as it was a powerhouse disco group of the 70s and 80s,
The Village People
. This is their hit,
YMCA
.
Frontman
Pete Burns
put it all out there when he was performing with
Dead Or Alive
. He took the gender-bender craze to a different level when the stunning and provocative singer announced he was not a drag queen, but transgender and was starting to transition from man to woman. But that came after they had their big hit,
You Spin Me Round
.
Boy George
certainly didn't shy away from the gender-bending issue, with a high-style make-up and long dreads. He certainly made a statement from the first time
Culture Club
was noticed and has never looked back. Here they are performing a dance hit,
War
.
Danny Elfman
put together a band that was high on theater, but every bit as high on musical freedom.
Oingo Boingo
might have had a big hit with Weird Science, but the perfect Halloween song was
Dead Man's Party
. This was a bunch of str8 men who could rock a costume!
There you have it, four different bands whose costumes were at home on the stage, but could be equally inspiring at any Halloween parade. Hope you enjoyed!