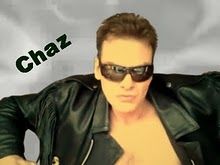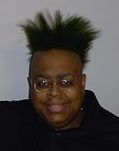 I'd like to welcome four new followers to the Soundtrack to my Day family. First, though, I would like to apologize to them, as I have not welcomed them previously. The whole situation with the broken glasses really put me a bit behind, but I hope to make up for it now. First I'd like to welcome Chazonator. In his own description, he refers to himself as 'Singer-Songwriter-Video producer-Equality activist-parent-friend-lover-real person', all of which are evident if you check out his blog, which you can find
here
. Definitely check his blog out, and you might find some interesting stuff! You can find links to check out his music, his news reports, and often politically-charged posts. Welcome to Derek Brown, who hails from Mississippi, where he owns a floral shop. He found us via Twitter, and you can check him out
here
. His tweets range from pop culture to political, and are quite interesting. He also looks cute as a button in his picture.
And a fine welcome to Sugar, an out and proud lesbian with two blogs of her own. She describes herself as 'Writer, Indie Artist, Pet Lover, Lesbian - currently awaiting a diagnosis of Rheumatoid Arthritis or Fibromyalgia.' One of her blogs is a music oriented one called Tantalizing Fruit, which you can find
here
. The other is more personal in nature, called These Joints. You can find it
here
. I'd also like to welcome Sokhengs Sor, who just joined us this week. Sokhengs has a blog you can find
here
, which is more adult in nature.
To welcome the new members of the Soundtrack family, I always try to make them feel at home with music I love. Today I offer up the music of Andy Moore, an out lesbian from Richmond, Virgina, who I have been lucky enough to see perform a couple of times. The song is Chicago from her latest release, the
5 In Common
EP. You can check it out at CD Baby
here
.
You can find out more about mandy by visiting her MySpace page
here
, and her official website
here
. And please welcome the new members, and I hope we get to know them through their comments.