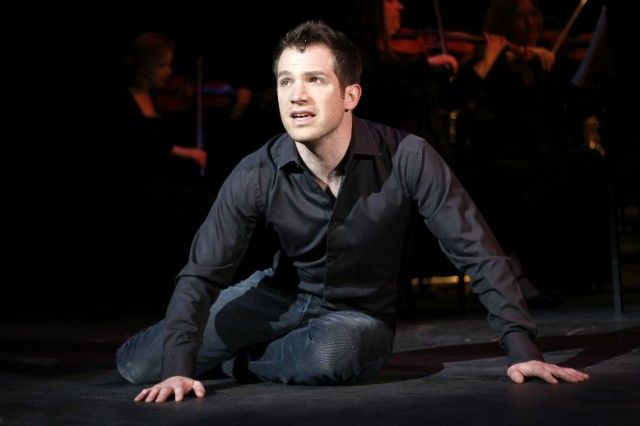 On September 23, 2010, Daniel Boys broke my heart. He might not have done it intentionally, but it happened nonetheless. How, you might ask? When I first came to know Daniel on the BBC show
Any Dream Will Do
, I fell in love with his voice. When I saw the clips of him performing with John Barrowman, I became a fan for life. And if I lived closer, I would have gone to see him in the London production of Avenue Q several times, to hear that voice and see the handsome face. I made the commitment to Daniel should he come to the US, I would be sure to see him. I purchased his album,
So Close
, and had it imported to me. I've upheld my end of the bargain so far, right? And what do I get in return? Well, aside from the great music in my collection? Daniel Boys scheduled an American debut concert for September 23rd, in Los Angeles. The other side of the country. Over 3,000 miles away. And no show on the East Coast. None.
Well, to heal my wounded heart, I found some videos online, and I will post them and try to pretend I was able to make it to the show, which was at Barre in LA. The following are all amateur videos from the show, so what they might lack in quality they make up for in content. The first I am posting here is
Better Than I
, a glorious song from his album.
Next I will feature a duet from the live show. Daniel performed
As Long As You're Mine
from the show
Wicked
. His partner in the song was Megan Hilty, and their voices make magic together on this beautiful love song.
The next clip is Daniel singing solo once again, performing
Make You Feel My Love
. The absolutely gorgeous song was written by the brilliant Bob Dylan, and performed to perfection by Mr. Boys. If I was at the show, I am sure he would have sung it directly to me.
In what I presume to be the final song of the show, Daniel sang
Always There
. The song was included on
So Close
, and just a beautiful, beautiful thing.
For more about Daniel Boys, visit his official website
here
. You can also check out his album on iTunes in the US, and buy it
here
. I am sure I will get over my heartbreak, and will continue to hope I get a chance to see this talented man performing live soon. Fingers crossed!