Terry Miller (left) and Dan Savage (right).
Writer Dan Savage started it all, asking people, any and all people, to make videos for the LGBT Youth, assuring them that no matter how bad they might have it now, it does get better. There is a light at the end of the tunnel, and while teenagers and other might not see it, it is true. After the rash of suicides following bullying of those perceived to be gay, he came up with
It Gets Better
. Here is his video, with Dan and his husband, Terry Miller.
I am interrupting this afternoon's blogging to bring you several more entries from YouTube from the
It Gets Better
project. I hope you do mind, and take a look at the stories of the people who took the time to share them. And share them with anyone you might think are in need of hearing them too. So many young people are bullied for so many reasons, from being too smart, too heavy, too poor, too tall, too short, too gay; in short, for not being like those who think they are cool. They think they have the power, and life continues to be just like an extended high school. Those of us who have lived through it can tell you that is far from the truth. It does get better.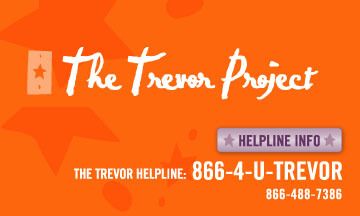 For more about what Dan Savage originally wrote, check out
here
. If you are someone, or know someone who might be feeling the effects of prejudice and bullying,
here
is the website for
The Trevor Project
. They have set up a hotline that can be reached at
(866)488-7386
. Share the number with those how you think might benefit, because the teenage years are hard enough without the additional issues discovering you are gay, lesbian, bisexual or transgender, and the pain inflicted on those youth by people with small minds.