Above: No, Theo wasn't trying to threaten me, although some thought my picture with the sign at Timothy's Pub in Etobicoke a bit odd.
Just one month ago, I started on my journey to Canada to complete a yearlong quest to see Theo Tams performing live. After working for a partial day on Wednesday, August 18, I hopped in the car and drove for about 8 hours. The next day, I completed the trip to the hotel, and made my way to the first show, in Stouffville. On Friday, I found a mall and printed up some pictures, and went to the show in Oshawa. After that show, I went back to my hotel and kinda crashed. I woke up and it was a bit rainy, and I hung out at the hotel, caught up with a bit of sleep, and reveled in the experience, checking out the audio tracks from the last show, loving it all. So for the show Sunday, I was well rested and looking forward to the show in Etobicoke at Timothy's Pub. I was going to meet Sue & Melony, who had been at both earlier shows, as well as new friends Pam and Jen Cathryne. Thanks to the GPS, I had no problem finding the place, helped by the large sign, and I immediately knew I needed a picture by it.
Again, there was more good food - an essential part of the live music experience, at least for me! - and great company. StereoGoesStellar once again opened the show, and I realized I really liked them. For more about the band, check out the post I did
here
. But for me, the trip was all about Theo, and soon it was his turn in the spotlight, and again he impressed me. His show again consisted of a mix of fantastic original songs and fun covers. I decided I was feeling bolder, and took out my video camera and started to tape some songs. One of the originals he performed was
Just A Little Longer
, a song he had recently written. I was so pleased I was able be there to hear it.
Theo has an amazing way with cover songs, to take them apart and make them his own. I have always enjoyed Howie Day's charming song,
Collide
. I think it is quite lovely, with such a sweet sentiment. But once I heard Theo performing it, the song was taken to a new level for me. I really like the way he doesn't veer to the overly sentimental deliver, instead keeping it feeling intensely personal.
His final song at the show was another cover, this one
Sometimes
by Britney Spears. Yes, when he first announced it many in the crowd were laughing, some even scoffing, but it didn't take long for him to not only quiet the laughter, but earn a huge ovation when he was done.
Blacklight
is a song that originally appeared on a pre-Canadian Idol EP he released,
Unexpected
. I am lucky enough to have that EP on my iTunes, so I was very excited when he started playing it.
After the show, we made sure to see Theo again. After all, in the morning I was going to be back on the road, driving for 10+ hours. So I saw him and got my hug - Theo is a fantastic hugger - and I gave him prints of a couple of shots I had taken at the first show. To my surprise, Theo gave me a kiss on the cheek when giving him the present, and I was grateful we were is a pub, because I don't think anyone noticed me blushing!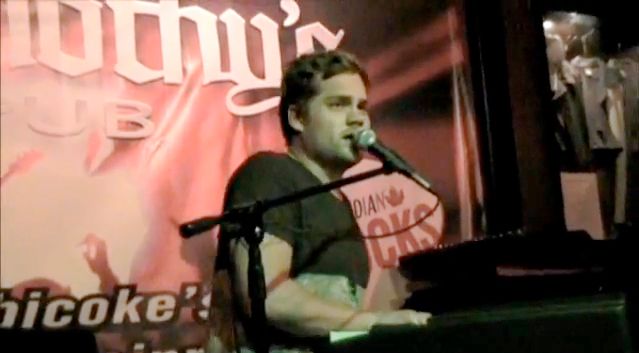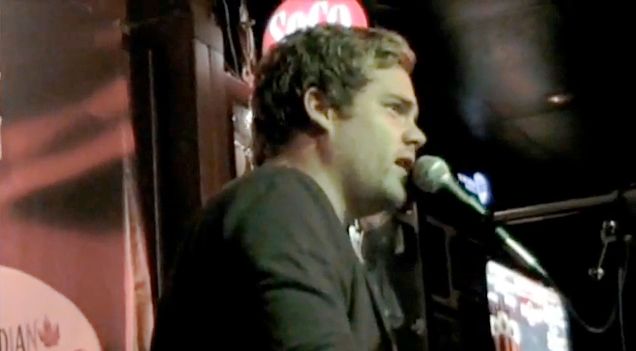 So I said my goodbyes to Theo, the ladies, and headed back to the hotel. In the morning I was heading out, having had a wonderful four days in Canada, already thinking about making a return trip next year when Theo tours with the release of his next album. More than 1,100 miles, close to 1,800 kilometers, three shows, new friendships and so many wonderful memories later, I am so glad I made the trip. I loved Theo Tams before, and now I love him even more.
Check out my other posts about the Theo Tams shows
here
,
here
, and
here
. You can also check out his official website
here
.