A view of Sheridan Square - Circle Rep on the far right
This post originally ran in July 2009. As the result of the Delaware Senate race has distracted me, I thought we would revisit this memory and dedicate it to tolerance and equality for all.
From April 1983 to September 1992, I made my home in New York City. I had finished college and did an internship with the Actor's Theater of Louisville before heading the the city to meet up with the [then] love of my life. For a couple of years, I worked at the Circle Repertory Theatre Company, starting with the Off-Broadway production of
A Fool For Love
, starring Kathy Baker and Ed Harris.
One of the perks of living in NYC was getting to see lots of off-Broadway and off-off-Broadway theater. One particularly enjoyable experience was getting to see the drag troupe
BlooLips
performing at Theater For The New City, located on the lower East side. I was lucky enough to attend a few of the productions, since BlooLips were originally based out of London, but I think a couple of the players stayed in NYC.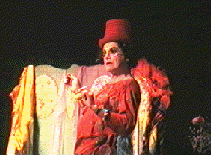 Lavinia Co-op and Betty Bourne


BlooLips was theater on a shoestring, with tiny budgets but huge creativity. With performers like the astounding Betty Bourne, the enchanting Lavinia Co-op, the delightful Precious Pearl, and many others, their makeup was exaggerated, and the costumes self-made. Long before there was Priscilla, Queen of the Dessert, there was BlooLips. And best of all, tickets were affordable for poor people to have some of the best fun money could buy. The following clip is from the show, Get Hur.

You can find out more about BlooLips
here
.