Top: Theo in Stouffville. Bottom: Me & Theo in Oshawa.
Well, I have been trying to make it to see Theo Tams performing live for some time now, and once I bought a ticket for the show on August 19th at the Lebovic Centre for Arts & Entertainment in Stouffville, Ontario, I knew it was finally on. As the time drew near, my excitement grew, despite the fact I had made the decision to drive up to Toronto by myself. So after working a partial day, I started up on the 18th, driving for 7.5 hours to Batavia, NY, where I stayed the night, just a few hours from Toronto. I woke up still excited, packed up the car and drove to Niagara Falls where I crossed the border with great ease. IT wasn't long before I was at the hotel in Markham, hoping to take a nap before heading to the show in Stouffville, about 35 minutes away. Well, I was just too excited, so there was no sleep to be had. instead I made sure I had all my cameras ready, fully charged and ready to go. I showered and put on my nicest clothing, and headed off, excited to finally be seeing Theo, and meeting some online friends as well.

Left to right: Sue, me, Theo, Melony & Cathy in Stouffville.
I drove to Stouffville, parked the car, and made my way to the theater. I was a bit early, and picked up my ticket and started wandering a bit. I noticed on the ticket it said no cameras or videos, so I certainly didn't want to drive 10+ hours to get myself tossed, and figured I would leave them in my bag. I soon ran into Sue, and chatted a bit, although I will admit I was so excited I was to the nervous/quiet stage. Soon we were joined by Melony & Cathy (with a 'C'), and we made our way into the theater. To our surprise, our seats were front-row-center, so close we could practically reach out and touch the instruments on the stage. As the audience filled in, my excitement only grew. I was quite the tight little ball of nerves by then. Soon, the lights dimmed and the opening act, the band StereoGoesStellar, came one. Well, not so much the band, as the lead singer/keyboardist, and he performed the first couple of songs solo before being joined by the rest of the band. Well, not so much the rest of the band as 3 outta 5 members for an acoustic set.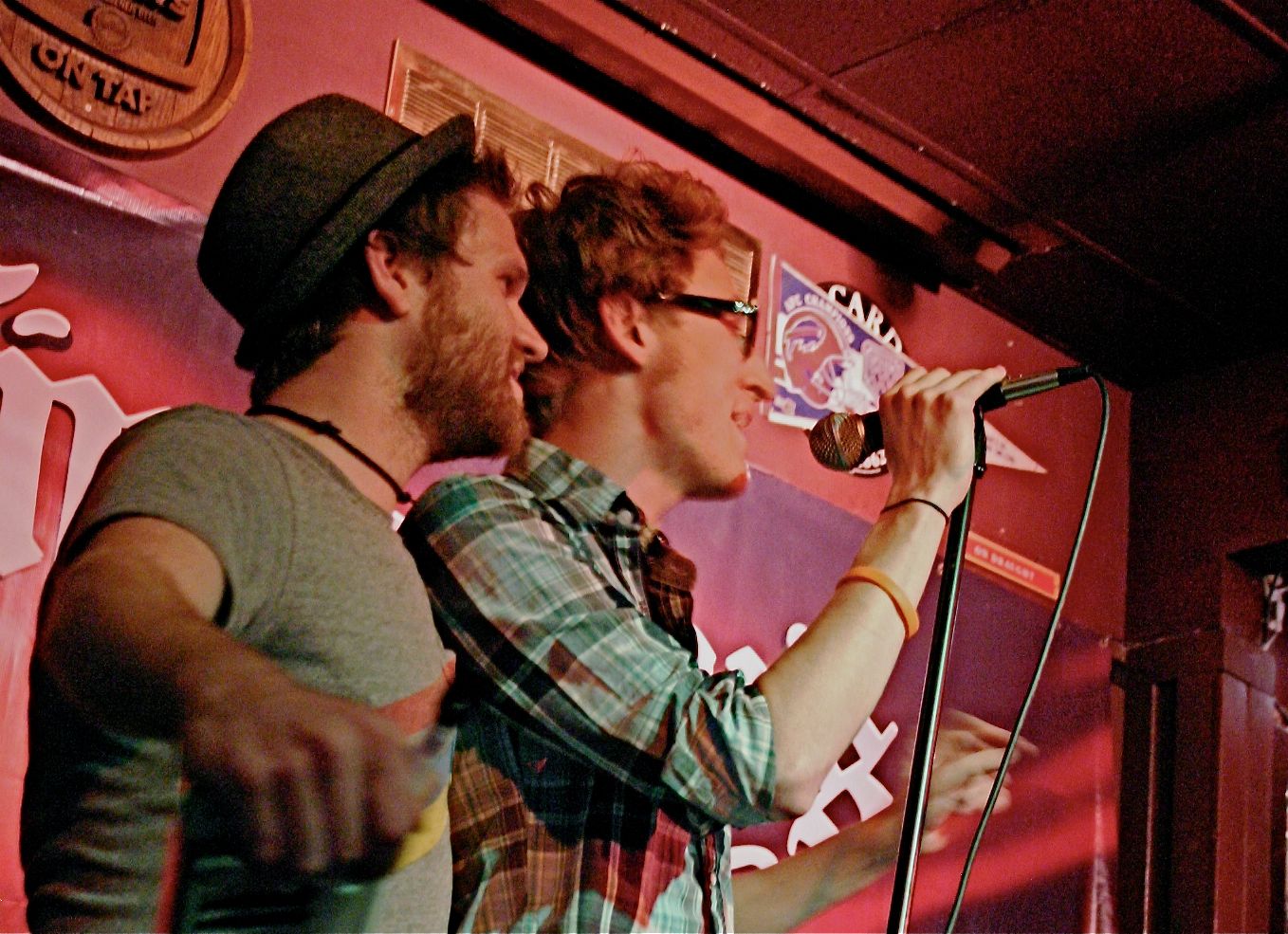 StereoGoesStellar: Left: Mick & Jeremy. Right: Mick, Jeremy & Iain.
Lead singer/keyboardist Jeremy kicked it off with a couple of songs before being joined by Mick and Iain on the stage, and continuing to deliver a very nice acoustic version of their Pop/Rock music. The talented young men seemed at ease with the audience, who appreciated their efforts. I was especially fond of their songs
Twenty-Two
and
Wish Upon A Plastic Star
. You can sample some of their music on their website
here
. Their self-titled album is also available on iTunes
here
.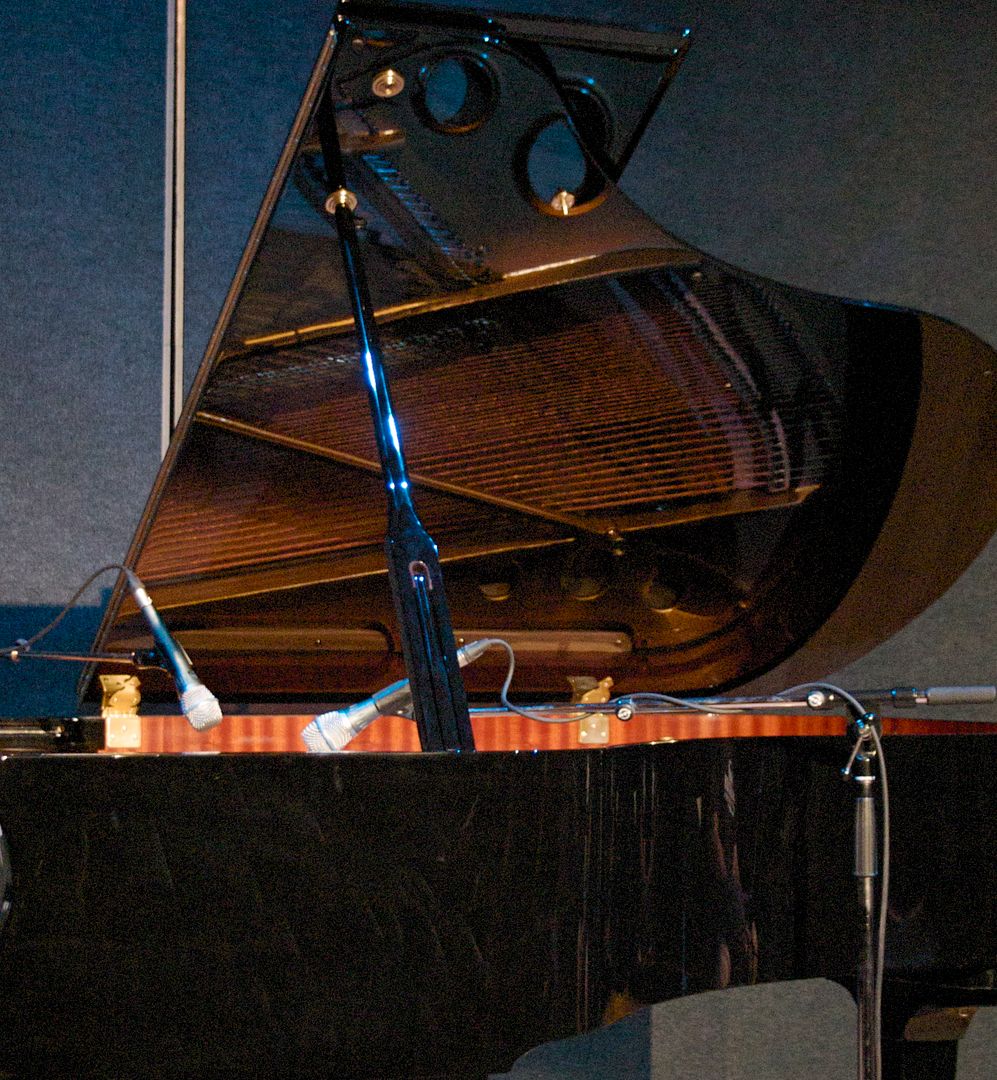 But, to be honest, I was there to see Theo, and spent much of their set glancing at the grand piano on the stage, knowing Theo would be playing it soon. And after a brief intermission, I thought I was gonna explode when the lights came up, and Theo Tams walked on stage. Looking quite dapper in his crisp white shirt and jeans, with an immediately engaging smile. He chats a bit, then starts playing. I felt a bit of a chill run up my spine, and I took grip of my seat, preparing myself to hear his voice, his music, something I have been dying to do for over a year. When he started, I felt myself exhale, as his voice was every bit as rich, beautiful, and textured as I had hoped for. As the show went on, he freely mixed his original material with some beautiful covers, from Tracy Chapman to Britney Spears. When he sang
Lazy Lovers
, I felt a tear falling , quickly intercepted by my hand. I certainly felt them well up again for his original song
Broken
.
Video courtesy of Sue Jackson from an earlier tour stop.
I have to admit it took a few songs before I remembered other people were there, and they had cameras. By the middle of the show, I grew bold and took my still camera out of the bag, and took a few pictures of my own.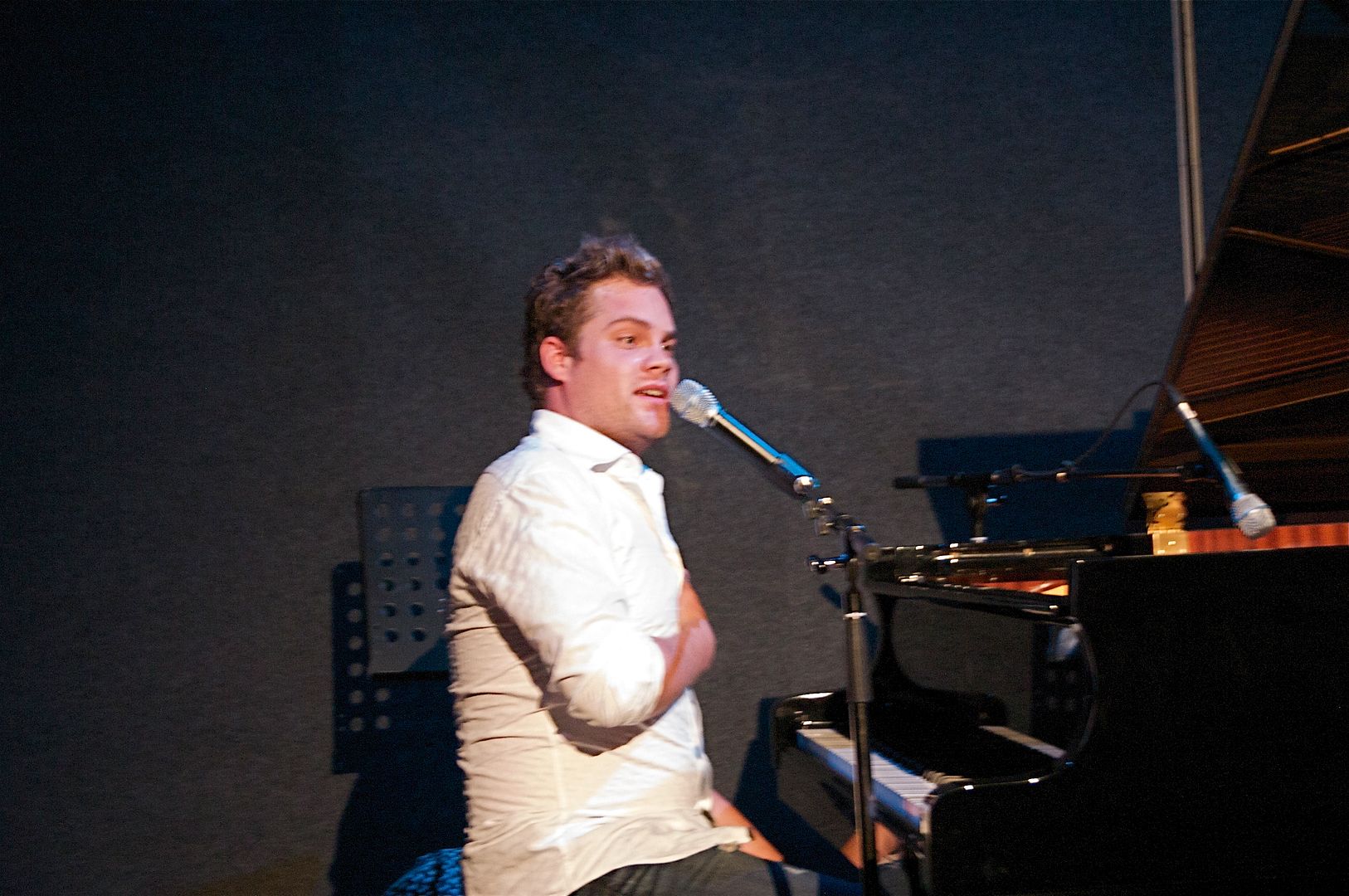 He also had an easy charm with the audience, talking about his music, as well as telling amusing stories. His smile and laugh lit up the room, just as easily as some he touched my heart with songs. He spoke with great affection for Canadian songwriter Jann Arden when he sang her
Good Mother
.
Video courtesy of Sue Jackson.
He also spoke of the
Taking It All Back Tour
, the title not only a play on his debut,
Giving It All Away
, but also how he was doing that in his own life at present, taking back the power. Was nice to see him talking from the heart so readily. He was also enjoying his time with the boys from StereoGoesStellar, and how he 'hearts' them.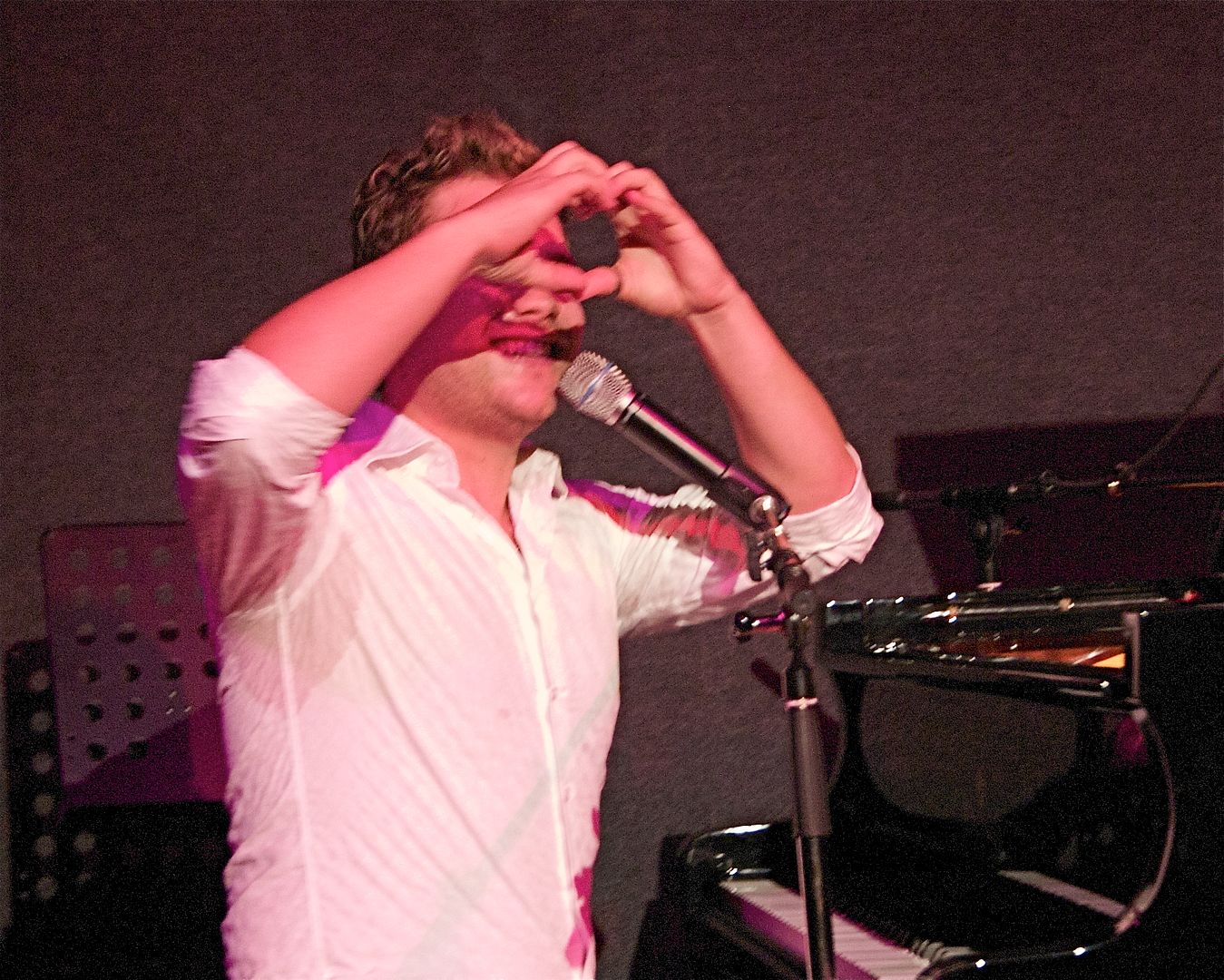 But it does always come back to the music for me, and Theo did not disappoint me at all - in fact I was impressed. At the piano, he was excellent. He has a clean yet deeply emotional style, one that is engaging to watch. whether singing a cover or an original song, remained expressive of the song, tied to the emotion. During the show, there were times I sat there smiling, and others I found myself dabbing my eye. While this wasn't a video playing for the show in Stouffville, the song
Doesn't Make It Easier
fell the latter.
Video Courtesy of Sue Jackson.
After the show, Sue, Cathy, Melony and myself went out to the lobby, where the boys from StereoGoesStellar and Theo were going to meet the audience. We were chatting away, waiting for the line to go down a bit, when I saw Theo point in our direction, and say my name and wave! Well, that certainly surprised me, and warmed my heart even more. Soon he came over, and I found myself still being a bit shy, even after he gave me a big hug. We chatted a bit, and I don't know if I was able to convey how happy I was to finally see him live, and how his music touched me. The ladies I was with, however, did tell me the smile on my face said it all. Here is Theo singing a cover of the Serena Ryder song
Weak In The Knees
.
Video Courtesy of Sue Jackson from 2009 tour.
This was the first of three shows I attended on my trip. Luckily for me, I managed to calm down for them, and get my video camera out. So I will be talking about them a bit more very soon. Until then, I hope you can enjoy my Tams-manian experience, as well as the great music I had the chance to experience first hand. For more information about Theo Tams, check out his official website
here
.