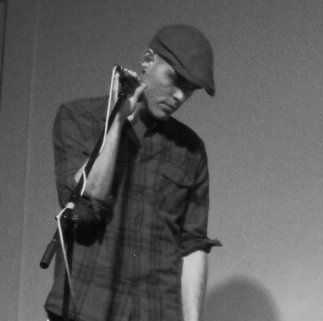 Today is the birthday of the gifted singer/songwriter Christopher Dallman. I have been a fan of Chris' since I purchased his debut album,
Race The Light
, on a whim, and my admiration has only grown since. You can tell he writes highly personal songs, yet they are so universal, so easy to relate to, I am always eager to hear more. For example take a look at the video for Ghosts, his latest from the EP
Never Was
.
As I said, I loved
Race The Light
, which began my love for his music. A sterling example of the great songs on that album is
Over My Head
. It is just beautiful, and it is nice to see Chris co-star with his husband, Josh.
Gimme More
is another song from a recent EP,
Sad Britney
. The EP was a collection of Britney Spears songs, all reinterpreted by Christopher with an aching and yearning inherent to the lyrics.
Earlier this year, Chris and Aiden James toured on the West Coast, calling it the
Double Trouble
tour. Aiden back in California to be part of a birthday concert with Chris. I really wish I could be there, and they schedule an East Coast leg soon, because I think a show with these performers would be amazing! Here is Christopher singing
Little Bit Of Blue
with Aiden.
OK, so this birthday post was more about me getting to hear some great music by Christopher than it was giving him much more than birthday wishes, but then again, it is my blog. Well, am also going to give you links to buy Christopher a present, and buy his music. You can find
Race The Light
on iTunes
here
or on Bandcamp
here
. You can purchase an autographed copy of
Never Was
directly from Chris
here
. You can purchase his amazing
Anthem
here
,
Sad Britney
here
, and
Live In LA
here
. There isn't a bad one, so buy any of them, or buy them all! And be sure to wish Chris a happy birthday!