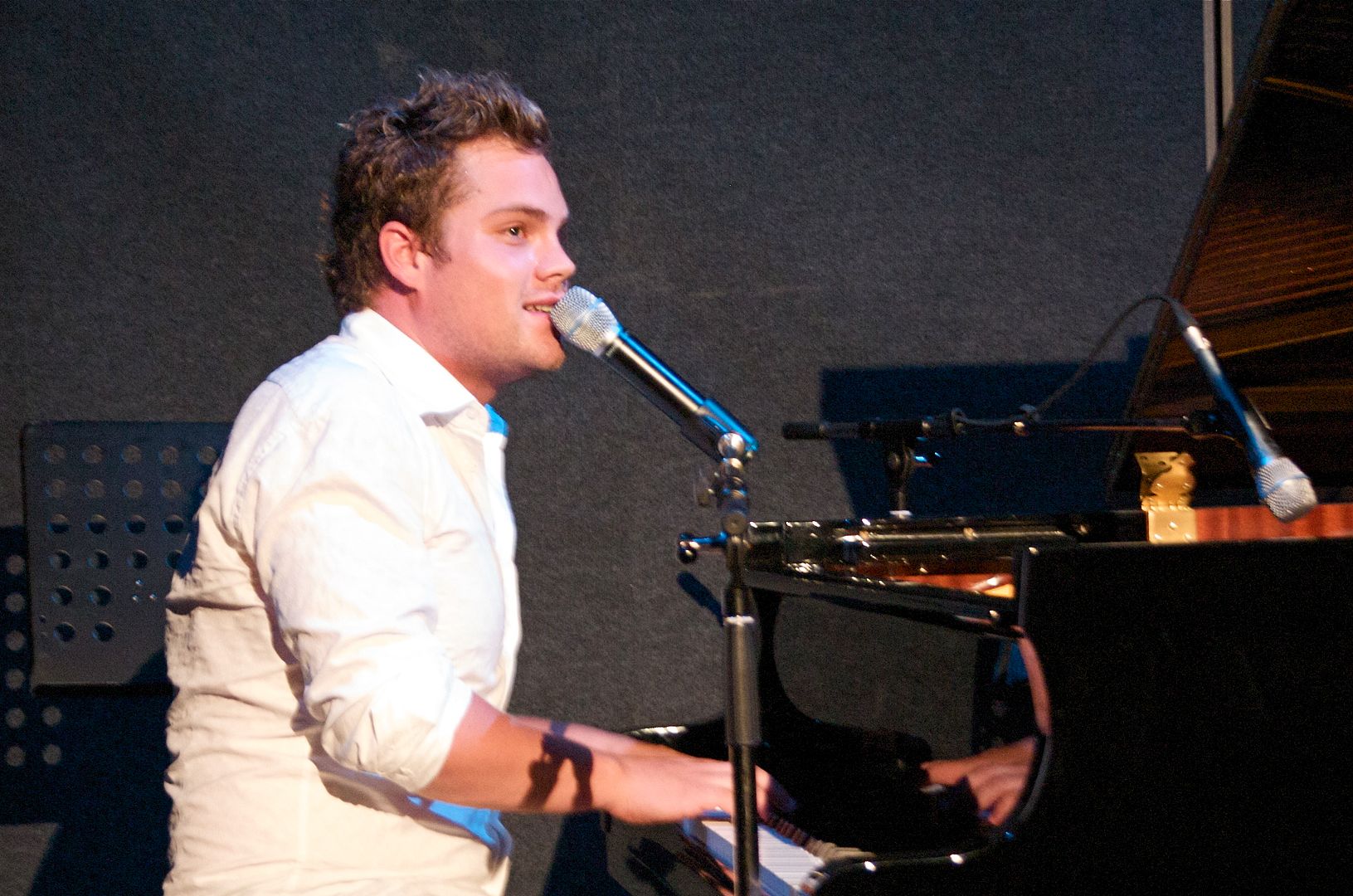 Above: Theo Tams performing live in Stouffville, Ontario.
Hard to believe that just two weeks ago, I drove myself to the Toronto area so that I could catch a few shows by the amazing
Theo Tams
. I had talked about the first show in Stouffville earlier, and the how excited I was when I returned to the hotel, almost too giddy to sleep. Well, I woke up the next day and rushed out to find a mall so I could print the pictures I took, and with the help of a GPS - cause God only knows, I am directionally challenged - I was able to find a store, but it couldn't print the RAW format, so I went back to the hotel, figured out a way to convert the files, and return to the mall to get some prints. Soon it was time to head to Oshawa, Ontario, to find the Thirsty Monk, where StereoGoesStellar and Theo would be playing for the next stop of the
Taking It All Back Tour
. Again, thank you GPS.
So, I found the place, and eventually caught up with Sue and Melony, and we sat down to eat. We were finding out some interesting tidbits about the show, like the band was setting up so that basically 4 people had a clear view, and the lighting wasn't good at all. So I immediately knew the still camera wasn't going to be out tonight, and thought the video camera would be recording sound, and that was about it. Soon, I also met Sandy, another Theo fan, as well as a young girl who was brought to the show by her mother, as she loved Theo's music. That was great to see! And soon Theo and the boys started to set things up, and I then knew this would be an audio night.
Me and Theo Tams at the Thirsty Monk in Oshawa, Ontario.
But I have to say there is something freeing about an audio night. I flipped on the video camera, set it on the table, and was able to sit back and enjoy the music, because I wasn't able to really see Theo at all. But with the hustle and bustle of the bar/restaurant, it was a very different feel from the previous performance, and one I very much enjoyed. It was a similar set list, but with each song, there was a different feel, a different sound, with Theo singing straight from his heart. Hey, I can (and do) listen to his album enough, when I go to a show I am expecting that something special, and every time Theo delivered. Here he sings Missy Higgin's
Where I Stood
, with pictures from the prior night in Stoufville.
Take, for example, his cover of Lady GaGa's
Bad Romance
. Far from a copy of the original, I had seen clips on YouTube, but there was something very special about his version at the Thirsty Monk. Here it is from the show, the audio at least, with some pictures taken while I was on the trip.
Another cover I really like was the Regina Spektor song
Samson
. It is an incredible song to start with, but as Theo gets going with it, I am just about blown away.
And I couldn't leave you without one of his incredible original songs, this one called
These Clean Walls
. A really cool song, I can't wait for it to be a part of the new album coming out next year.
After the show, we once again waited in line to see him, and were greeted with a fantastic smile and the engulfing hug I have come to know as the Theo Experience. He was sweet and kind, despite having just given another personal performance. Quick and witty, he signed one of the pictures I had printed out, and gave more hugs before we left. And for the second night in a row, I made my was back to the car with a big smile, and tons more memories to take back across the border.