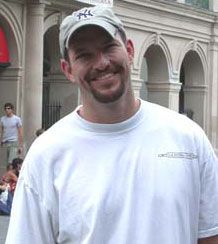 A passenger on Unite flight 93, Mark Bingham was one of the brave Americans who fought back against the hijackers, who planned to aim the plane for buildings in Washington, DC. There battle was dramatized in the film United 93, where Bingham was played by out actor Cheyenne Jackson.
Bingham himself was an out man, who played for the San Fransisco Fog in the Gay Rugby League. In honor of the man, the biannual Gay Rugby World Championship carries his name. Here is a trailer for the documentary made about Bingham.
Mark was very close to his mother, who has gone on to be a big supporter of civil rights for all. Since 2002, she attends and often speaks at the Bingham Cup, honoring her son.
For information on the Mark Bingham Foundation, check out their official website
here
. For more about the documentary,
The Mark Bingham Story
, check them out
here
.