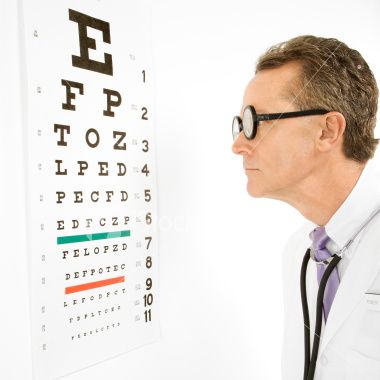 Yes, Sam Harris, that is how I feel when dealing with my optometrist. I went to my appointment at noon yesterday, and after signing in and sitting there for 25 minutes, the woman at the desk asked me if I was there for a reason. I tried hard not to get sarcastic and announce I was there to spend my day in their waiting room for my health, and told her I was there for my noon appointment. And she told me I wasn't on the schedule. I explained I called last Thursday, was told this was the earliest appointment I could get, and have been trying to cope with an outdated prescription since. Yes, I was getting annoyed. I guess she could tell, cause she went to the back, and came out to say they could squeeze me in, since there was a no-show for a noon appointment. Well, it was 12:30 already, so I thanked her, but also realized squeezing me in isn't what happened, someone screwed up the schedule...
So I went in the back, did the testing thing, and came out with a new prescription. I will say, the doctor was very nice, considering I was in a mood. It was time to pick out new frames. So I brought out a printout of the glasses I had on the post yesterday, and the gentleman - who was very nice - said he got it, and proceeded to bring me 10 frames, only 2 of which were remotely resembling the pictures. Even remotely. As I was looking at the one frame, we discovered it would not come in my size. So I was down to one, and he priced it out - the frame alone was almost $300, or over $600 with the lenses. That was just not happening. I mean, really? What drugs did they think I was doing? So I looked at the other frames, and I would be hard-pressed to come up with a line-up that was more dull and lifeless.
So I paid for my appointment, got a printout of my prescription, and left the office with no order. I have been prowling the internet for frames, and found plenty of frames that matched what I was looking for, and they were under $140. Like these, for instance, from the unknown brand called Ray-Ban.
So I will have to see where I get my glasses, and where I will make my next appointment when I need my eyes checked. I am pretty sure it won't be the same place, because between the mix ups the first time I was there, to the second (yesterday), I have no faith in their customer service. And I get to add on a few extra days with an old prescription. Yes, this whole thing could have me seeing double soon...