Since I just posted the latest video from Eric & the Adams, thought now might be a good time to run a tour schedule for the hot and dare I say sexy band. It is mainly stops in Oklahoma, but it also includes the dates for their cruise, which leaves out of Los Angeles at the end of January. For more about that, check out their official website
here
.
And while I am at it, here are some of the upcoming dates for Eric Himan. I haven't seen the band play live, but I have certainly seen Eric play every chance I can, and am never disappointed. You can find out more about Eric at his official solo website
here
.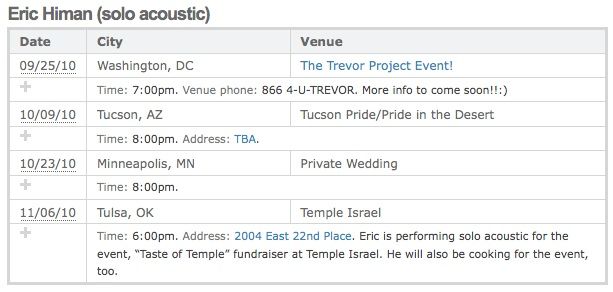 In case you might need a little tempting to catch a live show, here is Eric singing at the Best of Tulsa Awards this year. He sings
Tulsa
from his
Everywhere All At Once
release. It is a great album, but so are the rest. If you haven't already, you really should add Eric to your music collection. Try his latest, Resonate, available on iTunes
here
.