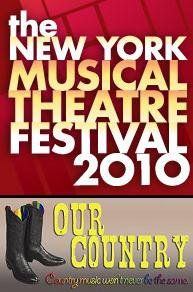 Our Country poster and leading man Justin Utley.
Next month, Justin Utley will be starring in a production at the New York Musical Theatre Festival. On October 11, 12 & 13 at the Hudson Guild Theater at 8:00pm, Utley, who has been featured twice before on this blog, will be playing the lead in
Our Country
, the award-winning musical by Tony Asaro and Dan Collins, is being showcased at the 2010 NYMT Festival. Previously,
Our Country
was the winner of FOUR 2009 Planet Connections Theatre Festivity Awards, including Outstanding Overall Production of a Musical,
Outstanding Lead Actor in a Musical (Justin Utley)
, Outstanding Book, Music and Lyrics of a Musical, and Outstanding Band or Orchestra. On the official website, the musical is described thusly.
This Just In: "King of Country" Tommy Dautry arrested for lewd conduct in a public restroom! Outed, humiliated and abandoned by fans, country music sensation Tommy Dautry has gone from darling to derelict overnight. But now, in a one-night-only engagement (in the back room of The White Swallow), Tommy is back and ready to prove that gay or straight, left or right…it's Our Country too!
The Hudson Guild Theater is located at 441 W 26th Street, New York, NY.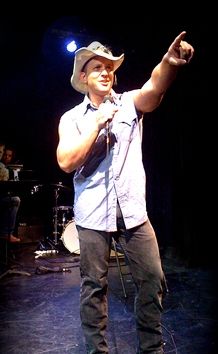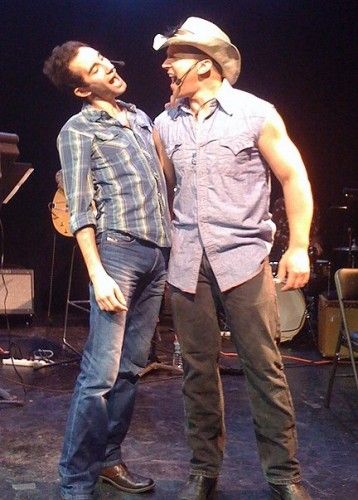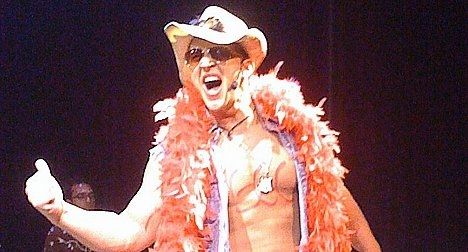 Show photos from the official website.
Both the show and Utley received rave reviews when it ran last season.
NYTheatre.com
said "A star-making lead performance by Justin Utley.
Our Country
can and should become a huge, affirming, crowd-pleasing, heart-warming hit!"
Stagebuzz.com
raved "Our Country, a new musical with music and lyrics by Tony Asaro and book by Dan Collins, confronts the issue head on. Tommy Dautry (Justin Utley) has it all - a great voice, a hit love song,
Honestly,
that's climbing the country charts, a top-notch band, and a killer smile that charms everyone who sees it."
The following is a clip from The NYU Graduate Musical Theatre Writing Program presents "The Second Avenue Songbook Series: The Songs of Tony Asaro and Rob Shapiro" earlier this year. The song is
Christ Is In The Kitchen With Mama
, with Justin singing the lead.
Tickets for the show are now available
here
. The information for the show can be found
here
. For more about hunky Justin Utley, you can check him out on MySpace
here
, or FaceBook
here
.