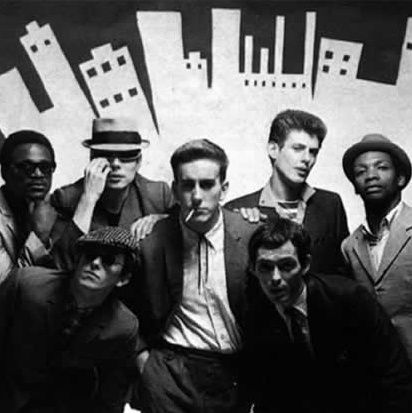 Formed in Coventry, England, in 1977, The Specials were a band like few others. Born out of the post-punk, pre-New Wave era of music, they joined the ska beats with the drive of punk to make a dance music that swept the world. Formed by songwriter/keyboardist Jerry Dammers, vocalist Terry Hall and guitarist Lynval Golding, the put together a big rhythm section and The Specials were born. Part of my unnatural fascination with all things Terry Hall, I was crazy about this music back in the day. And 33 years later, they appeared on Late Night with Jimmy Fallon on April 13th of this year. The song they performed in a private show was
Little Bitch
from their self-titled first album, released in 1979. This is the performance on the Jools Holland show.
But back in 1979, the band was working on their first album, and it also included that amazing song
A Message To You, Rudy.
Originally written by Dandy Livingstone in 1967, it scored #10 on the UK pop chart. Singing background vocals was an amazing singing, Chrissie Hynde.
Then in 1980, the band released the single
Rat Race
. The song, included in import versions of the sophomore effort,
More Specials
, but not the UK version, climbed to #5 on the UK charts and made the Top 100 of US Dance music.
The first cut off the second album was the 1949 song
Enjoy Yourself,
best known when performed by Guy Lombardi and the Royal Canadians. On the album version, the background vocals were offered up by the ladies of The Go-Gos. Belinda Carlisle, Jane Wiedlin and Charlotte Caffey could be heard on the album, but here in this live version, it is the boys in the band.
In 1981, they released Ghost Town, another single that wasn't on a album at first. That, however, did not stop it from heading all the way to #1 on the UK Pop chart, and securing more fame for the band.
Not long following this success, Terry Hall, Neville Staple and Lynval Golding broke away from the band to start their own group,
Fun Boy Three
. In this group, Terry had much more control, both musically and artistically, giving him much more room to experiment. Jerry Dammers continued on, sometimes using the moniker The Specials, other times using Specials AKA, until 1984, when he dissolved the band to move into political activism. The band reunited in 2007 for a 30th anniversary celebration, and have been together since, touring and working on some new music. For more about The Specials, check out their website
here
.