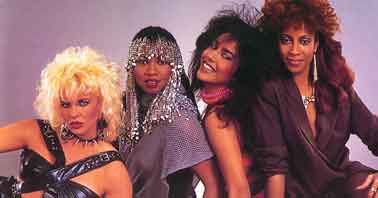 Protégées of singer Rick James, Joanne "JoJo" McDuffie (lead vocalist), Candice "Candi" Ghant, Kimberly "Maxi" Wuletich, and Cheryl "Cheri" Bailey became known as the Mary Jane Girls in the 80s. Bailey left the group in 1985, and was replaced by Yvette "Corvette" Marine. Their run was short-lived, starting with the 1983 release of their debut to 1987 when the group disbanded. They released the self-titled debut album in 1983, and the song
Candyman
went to #23 on the US R&B chart, setting the album up for success.
In 1985 they released a second album,
Only Four You
. The first single from the album rocketed up the charts, landing at #7 on the US Pop chart, #3 on the R&B chart, and #1 on the Dance chart.
In My House
was a major hit, coming on the heels of a change in the line-up.
In 1987, the girls called it a day and the Mary Jane Girls were no more. Apparently the change in the group did not alleviate the friction, and the girls went their separate ways.