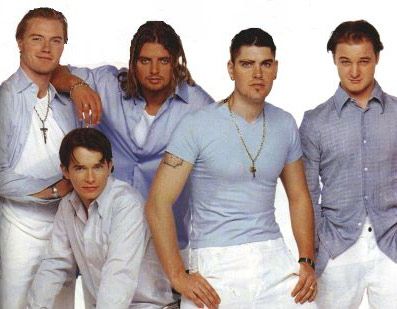 L to R: Ronan Keating, Stephen Gately, Keith Duffy, Shane Lynch, Mikey Graham.
After an exhaustive audition process in 1993, manager Louis Walsh assembled Keith Duffy, Mikey Graham, Ronan Keating, Shane Lynch and Stephen Gately to form Boyzone. The group was Louis' Irish answer to
Take That
, the UK boyband featuring Robbie Williams that was tearing up the charts. They didn't release their first album until 1995 One of the songs from that first album was
Father And Son
, a song written and recorded in 1970 by Cat Stevens, now known as Yusuf Islam. It was the fourth single from their debut, all of which went #1 in Ireland, and were in the Top 3 on the UK Pop chart.
Where We Belong
was the third album release for Boyzone in 1998. The fourth single off the album,
No Matter What
, was written by Andrew Lloyd Webber and Jim Steinman for the musical
Whistle Down The Wind
. It topped the Pop charts in both Ireland and the UK.
As with many groups, even the overwhelming success did not manage to keep them together. In 1999, Gately announced he was gay and had a boyfriend, Keating recorded a solo album and a song featured in the movie
Notting Hill
, and other tensions were mounting behind the scenes of a big tour. In January of 2000, they announced they were breaking up the group.
L to R: Ronan, Keith, Stephen, Mikey and Shane.
In 2007, they announced they were reforming the group, and working together again. They started appearing in public together, and in 2008, they toured together and started working on a new album. They released the videos and singles
Love You Anyway
and
Better
. The later included the first depiction of Stephen with a same sex partner. They were recording in 2009, but on October 10, 2008, Stephen Gately was found dead by his lover in a vacation home. The other boys came together, all deeply saddened by his passing. The decided to remain together and complete the album they started, using the vocals Gately had laid down. In March of 2010, they released
Brother
, dedicated to 'Steo'. The first single,
Gave It All Away
, was written by Mika and included his vocals, and the video featured the remaining boys penning final goodbyes to him. The second single,
Love Is A Hurricane
, features the remaining boys in varying degrees of undress. It also happens to be a good song.
For more on Boyzone, check out their official website
here
.