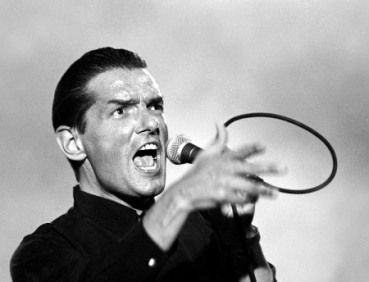 In 1982, a striking Austrian named Johann (Hans) Hölzel released his first album. He was classically trained for one semester at the Vienna Music Conservatory, only to leave to blaze his own path in the music world. He moved to Berlin, and played in many clubs, focusing on a blend of Jazz and Rock. When he returned to Austria, he changed his name to Falco, playing rock and punk in bands, as well as working on his solo career. The first album,
Einzelhaft
, was a hit throughout Europe and Asia, but not the US. His version of
Der Kommissar
topped the charts in these areas, yet only went to #72 in the America. Buoyed by success, he continued making New Wave/Pop/Rock fusion music, and in 1985 released
Falco 3
, and the first single,
Rock Me Amadeus
. It stormed up the charts, with the fusion of Rock/Classical/Synthesizer, scoring Top 5 on the charts worldwide, and #1 in most countries, including the US.
He followed it up with
Vienna Calling
, a song inspired by his native land and carrying a similar sound to
Amadeus
. It was a success, although not quite as big as the first. It did make it into the Top 20 in the US, scoring #18.
He also released Jeanny from that album, which scored on the charts in many countries, but never made it to the charts in the US. It had more of a moody ballad feel, a plaintive song of love gone wrong. Oddly, it is one of my favorites from Falco.
In 1986 he released
Emotional
, and the first single,
Sound of Musik
. Again the sound was a fusion, with a bit more dance involved, as well as a touch of theatrics of British band Queen. It was another hit, placing at #13 on the US charts.
After this, Falco remained on several charts around the world, but never made it to the US charts again. But he maintained a strong career in Europe and Asia, through the mid-90s. In February 1998, while in the midst of planning a comeback, he died in a car crash while on vacation in the Dominican Republic. His body was returned to Vienna to be buried. For more about Falco, visit the official website
here
.