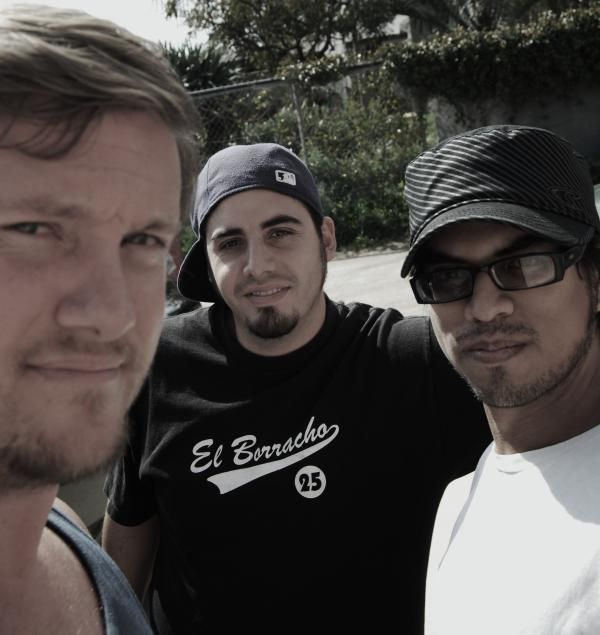 I was trying to come up with a clever and smart way to describe an overall feel of
We Got Love
, the new album by San Diego singer/songwriter Chad Cavanaugh. The closest I came was thinking it was Southern Californian Ska - an island beat combined with a bit of rap, all firmly entrenched in a rock base. Confused? You wouldn't be if you listened to the album instead of me. There is a fresh feeling to the collection, driven rhythmically by the acoustic guitar, and the vocals of Cavanaugh. It starts off with the title track, which obviously is written from the heart, and just oozes with joy and, well, love.
Long Desert Road
starts with the guitar but it is driven by Cavanaugh's relentless vocal, part army marching chant, part love song, a soldier using what he can to get home.
The Stranger
is a ballad, or the closest you will find from this artist. It is a deep and searching self-reflection, a song of insecurities boiling over. Next up,
Don't Require No Shoes
, takes a look at the easy and relaxed place a strong relationship can bring you. There are times when you just wanna hang out with the person you care for, cause love doesn't require no jacket or shoes.
Best Start Livin'
comes very close to reminding me of
The Specials
, using the ska tempos while aching for more. In this case, it is demanding the listener to stop and smell the roses, only not in a literal sense.
Bumper Stickers
is a cool song, reminding me of a young Dylan, coming close to a rap that drives the beat. It is demanding people put their money where their mouth is - no big talk acceptable without the walk to back it up. 'You're actions speaking louder than your bumper stickers.' Yeah, that one works for me.
Daddy's Little Girl
took me back, really surprised me. I assumed this was going to be a sweet song coming from this proud stay-at-home father/rock star, but instead it goes darker and deeper, tackling the problem of drug abuse in the world, I am sure a father's worse nightmare.
3AM Vampire
offers a slight nod to Twilight, but that ain't what it is all about. It is a return to the ska beats and vocals. I took it as the odd ramblings of the singer/songwriter on a schedule that keeps him up late at night. Whether the vampire queen is a a groupie or him being stalked by his profession, I am not sure. But I love the song!
Peace?
is a beautiful love song to humanity. Gotta love a song that promotes respect, education, and love to achieve peace. 'Peace and humanity go hand-in-hand.' The final cut on the album is
Daydream
, and has a slight country feel, which dissipates with Cavanaugh's vocals. With the addition of the lovely vocals by Lindsay White, the chorus achieves a dreamy mode, those of dreams lost and memories dark, and dreams still held dear. Somehow, they manage to make it all something beautiful.
We Got Love
is available for purchase on CD Baby,
here
. I bought it, and am glad I did. If you like the taste you have here with the two videos, I am sure you will too.