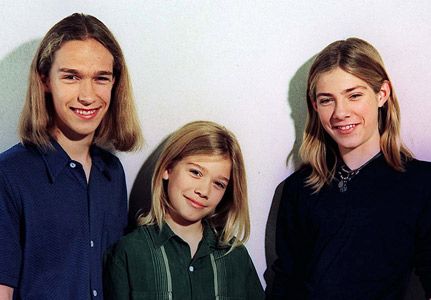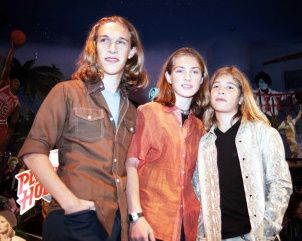 Top Photo Left to Right: Issac, Zac and Taylor.
Bottom Photo L to R: Isaac, Taylor and Zac.
Thirteen years ago, three teen brothers from Tulsa, Oklahoma, took the music charts by storm with their third album, the first on a major label. The first single, released on April 15, 1997, was
MMMBop
, which soared up the charts to claim #1 on the US Pop and Top 40 charts, as well as charts across the world. When they hit with the public, there was much screaming to be had, from teen girls and boys, as well as some folk beyond their teen years. Frankly, I have no real proof to back this up, but I think cougars started here. I'll be honest, and say I kinda enjoyed their music, it was fun Pop-Rock. And at ages 17, 14 and 12, the boys enjoyed making music and were also writing their own stuff. That included the big hit,
MMMBop
.
Fast forward to 2010, and the boys, having taken some time to hone their craft, are ready to release their new album,
Shout It Out
.
Left to Right: Zac, Taylor and Isaac.
For starters, the boys have grown up, and are handsome men. They've also all have been married, and have children - seven of them, between the three. Sweet Jesus, that makes me feel old, but I shall cope. And I haven't heard anything from the new album, save what I heard on the video from MySpace,
Thinking Bout Somethin
. And you know, I am liking the song! Those boys are still rocking, and adding a bit of blues to the songs. I like the song, and am willing to ignore Weird Al playing the tambourine and say the boys are looking good, even if they are offering up a nod to the Blues Brothers.
For more on Hanson, check out their official website
here
.You can also check out their MySpace page
here
. And their music to date is available on iTunes.
Shout It Out
is due out on June 8, 2010.