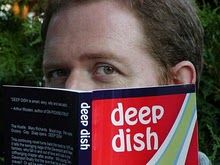 I would like to welcome another new follower to Soundtrack to my Day, Marc Harshbarger. Marc is a writer, having two novels already published. He has his own blog,
Deep Dish
, also the name of his first book. The subtitle, 'Groovy Thoughts of a Gay Writer', pretty much describes his delightful blog. Marc lives in Chicago with his partner, and two cats. Hopefully, we'll get to know even more about Marc in the near future.
For the traditional welcome, inspired by the love I feel when a new follower joins the group and the spelling of Marc's name, here is
I Feel Love/Johnny
, by the amazing Bronski Beat and featuring the brilliant Marc Almond.