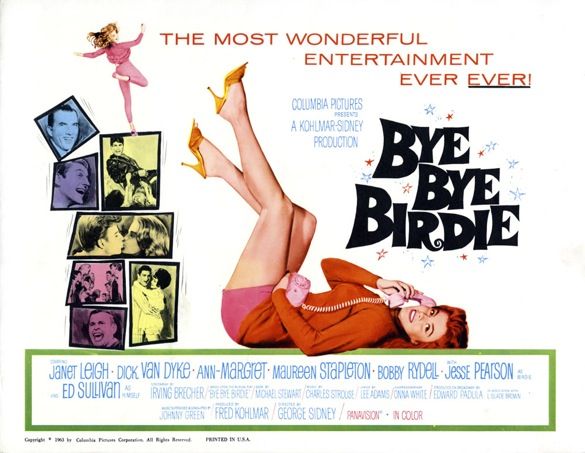 In 1960, a Broadway musical took the world by storm. 'Bye Bye Birdie' certainly took New York by force, winning the Tony Award for Best Musical. In 1963, the movie version was released, and only Dick Van Dyke and Paul Lynde made the move from Broadway to Hollywood. Many of the stage stars were replaced with film and music stars with names and fame already in pocket. Ann Margaret, the young girl with a big voice and curvaceous form, was cast as the young ingenue opposite Bobby Rydell, a teen idol from Philadelphia whose songs were already on the radio. Chita Rivera lost the role of Rosie to Janet Leigh, and although the role was still written as a 'Latina', it has been thought the 'interracial' relationship between Rivera & Van Dyke was something the movie studio wanted to back away from. The story was loosely based on the phenomenon of Elvis Presley, and his 1957 entrance into the US Army. The show became one that was done by high schools throughout the country, able to use kids in the roles of the teenagers. It would be hard to find people who went to school in the 60s and early 70s who didn't get cast in the show. The movie opens with Ann Margaret singing a song written for the film, "Bye Bye Birdie".
Margaret played Kim, president of the Conrad Birdie fan club, who is dating hometown catch Hugo [played by Ridell]. The town is chosen as a place for the farewell performance of Birdie before he is to enlist in the army, to be broadcast on the Ed Sullivan Show. The kids in the town are all abuzz with gossip of Kim and Hugo starting to date, and the upcoming appearance of Birdie in town. This is expressed in "Telephone Hour".
Having been pinned by Hugo, Kim feels more mature and grown up than ever before. She sings "How Lovely To Be A Woman" to declare her new found maturity.
As the arrival of Birdie nears, the girls all get excited their idol is coming, and the boys are annoyed the girls are so thrilled. That leads to the song "We Love You, Conrad", although the boys have their own version of lyrics. (This video was removed, and I can't find a replacement, so I will move on...) Birdie arrives, and performs for the townspeople, causing women young and old the scream and faint. On the steps of City Hall, Birdie sings "Honestly Sincere".
With so much good and famous music in this show, I have decided to break it up in two posts, the next and final one coming next Monday.