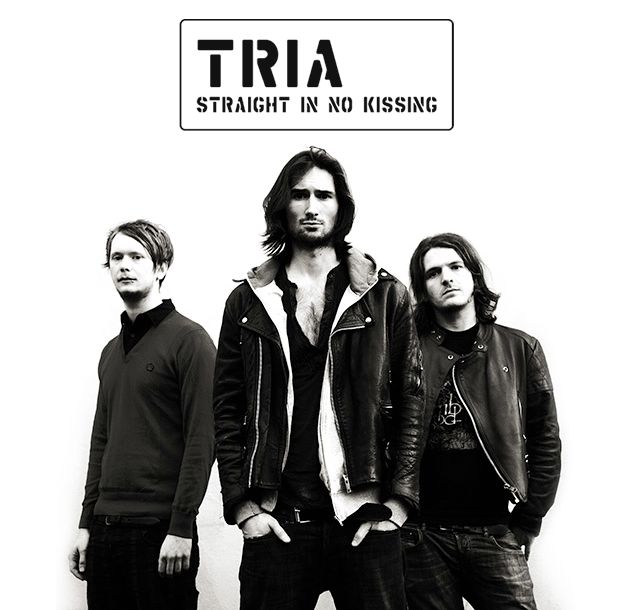 From left to right: Joe Watson, Tom Parsons & Sean Douglas
Well, it finally is here. I have been waiting for the album from the band TRIA for a bit now, ever since I stumbled upon the video for the song "Lights". Often, there is nothing more gratifying than the stumble that reveals something new, like that one. I have been a fan of Daniel Boys, a star on London's West End, and follow him on Twitter. He's been featured several times on the blog, so when he mentioned everyone should follow @TRIAMusic, I did, cause I am a good fan. When I saw a link for a video, however, I was blown away. "Lights" just rocked me out!
The band is made up of Tom Parsons on guitars, piano, synths and vocals; Sean Douglas on bass and synths; and Joe Watson on drums. So the album 'Straight In No Kissing' was recently released and available on
iTunes
, so I had to scurry off to buy it. And I am very glad I did. All the songs were written by Tom Parsons. It opens with the almost tribal drums beating for the title track, before kicking into full-rock mode. There is some awesome guitar-work in this one, and a chorus with a slight Eastern feel, and it just "Something Like You" talks through the beginning, 'Have you ever had a dream?' keeping tempo with a strong rhythm section before taking the bridge with full band, bringing the rock back to 11 on the dial. "Nothing Else Will Do" opens with an almost lazy, plaintiff feel. 'I don't know, I swear, I don't know where you got those eyes.' The ballad feel continues, the sense of love palpable. It drips of lost love, either real or feared. That is followed by "Lights", the video seen above. I still love the retro-psychedelia in it. There is a muscular feel, yet refined sound that is sexually charged. It remains a favorite of mine. "Smile" is a piano-driven piece, with longing at the base, a minute and a half of raw emotion. I heard "Last Moments" and thought of one of my favorite writers/musicians of the last few decades, Terry Hall. There was a reverence of the past in his music, while a definitive feel of current. While the orchestration recalls the late sixties, the instrumentation keeps it away from feeling dated, a strong guitar with a snare drum. And all the while, Tom's vocals keep on target.
"Stay" begins as a sparse ballad, but with the build on the chorus becomes much more. The structure is reminiscent of Muse, with less theatrics. There is an organic feel to the tracks that remains true. Feeling like some of the best of recent U2, "Cause To Smile" quickly moves beyond it to the sound of TRIA, a bold statement of a man listening to a debut album. "We" starts with a contemplative acoustic feel which builds to the chorus to a higher energy, capturing the kinetic energy of life. 'Straight In No Kissing' is a really good rock album, utilizing elements of psychedelia, metal and alternative rock combined to make a forward-thinking and feeling collection. Moving seamlessly from track to track, the band is fluid and strong, moving together to envelop each song. The band manages to maintain that strength and muscle to the music, without falling into the teenaged machismo of some rock bands, instead keeping a sexy maturity that is just hot. I am excited about the sound of this album, and can't wait to hear more from this band. You can check out the TRIA website
here
, or purchase the album on iTunes
here
.