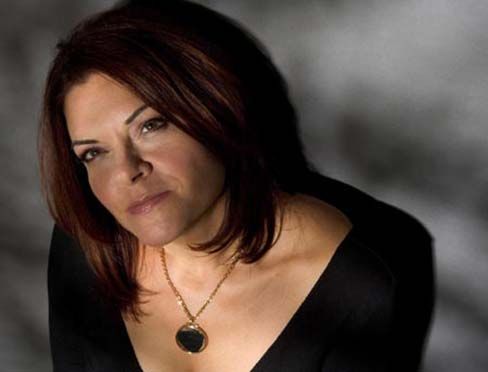 The daughter of legendary Country star Johnny Cash, Rosanne owned the 80s in Country music. During the decade, she released 17 songs which appeared in the Top 20 on the Country charts, including an incredible 10 that reached #1. The song that started the parade is still one of my favorites,
Seven Year Ache
. Released early in 1981, the perfectly written piece came from her own pen, showing much talent. It was the first single off her second album, and proved not only to be a Country hit, but also reached #22 on the Pop chart. This is a video of Rosanne singing it live, and it just wow's me.
Her fourth #1 came in 1985, off the fourth album
Rhythm And Romance
. It also showed some crossover power, getting to #16 on the Adult Contemporary chart.
I Don't Know Why You Don't Want Me
has a gorgeous melody and smart lyrics, again written by Cash, and co-written by then-husband Rodney Crowell.
In 1988,
Runaway Train
became the ninth #1 song of the decade, the fourth off
King's Record Shop
. The song was written by John Stewart was a member of the legendary Kingston Trio as well as being a prolific songwriter, with songs like The Monkee's
Daydream Believer
to his credit.
Rosanne continued to record great music, until undergoing brain surgery in 2007. After taking some time for recovery, she is back to work, including working on
The List
, the 2009 release that was made up of songs from the list of the Top 100 Country songs given to her be her late father. One of my favorite songs is
500 Miles (Away From Home)
, a song copyrighted in 1961. I love the version by the Kingston Trio and also Peter, Paul & Mary. The Hooters also did a killer version of which I am quite fond. Well, here is Rosanne's version of the great song.
For more about Rosanne Cash, check out her website
here
. She is a talented, beautiful, and courageous lady, with so much great music shared with the world.