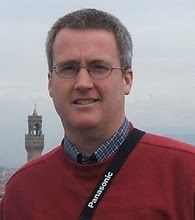 Welcome Mark from Washington, DC. Since Mark is a writer/editor, I want to apologize from the start, cause there are times I am blogging on the run and I can't believe what gets through! Mark lives in DC with his partner, Shane. Mark's blog, Running WithBlue Sponge, can be found
here
. Stop by and check it out, it covers several things, from food to the funnies. He describes it as "It's a personal journal about me, a runner with dry skin and a decent sense of humor--not to mention a blue sponge." Do check it out.
And, for the traditional Soundtrack welcome, I will add a great clip from Eric Himan singing
Only
, from his album
Resonate
. Nicole Steele plays percussion with Eric, and is pretty amazing! Considering it was an impromptu performance at a dinner party, I am planning to send out an invite to Eric next time he is in town. Enjoy, and most certainly, a big hearty welcome for Mark!