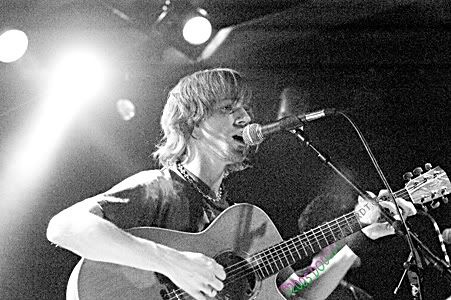 He is a longtime favorite of mine, with his California-cool stylings never failing to lift my heart and my mind. Garrin Benfield is a native of San Fransisco, combining the West Coast rock with folk flavors marinated in stew of cool jazz. First up is
Where Joy Kills Sorrow
, the title song from his 2004 album, the first of his to find it's way into my collection, and certainly not the last. In fact, I have them all. Hopefully this gorgeous song will nudge your eyes open just a little bit more than they were before.
And perhaps
Give Peace A Loop
can step up the waking process up a little, and give you a chance to sway a bit in your chair. There is a Haight-Ashbury feel, as Garrin offers some really wonderful guitar playing, and layers his live performance with the aid of a loop machine, giving a really full and hypnotic sound to a man at a microphone playing his guitar.
If you really need to wake up, there is
I Let You Go
, a country-spiced toe-tapper, and I defy anyone to listen and not need to get up and move. The song is from the Garrin Benfield Band album
August Live
, and it is a prized piece of my music collection. You can find out more about Garrin at his
website
or on
MySpace
. For now, relish in this video.