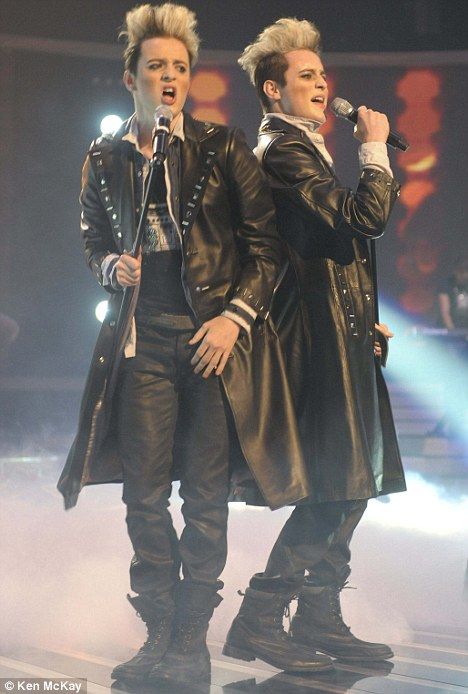 OK, if you weren't keeping up with Simon Cowell's UK series
X-Factor
, you have no idea what Jedward is. And there is every possibility after watching this video, you might wish you still didn't. Jedward is the mashed up name of Irish twins John & Edward Grimes, cute and fun-loving blond boys with lots of moxie, who took most of the oxygen out of the show when they were sent home. I mean, once they left, and people figured out Danyl Johnson was all about the audition, and then petered out. Sure, they might not be the best singers in the world, or even close, but the boys know how to entertain, and have the relentless energy and joy only a teenager can bring. Sure, they might have more mousse in their hair than vocal chops, but for the moment, I am on board. I am telling you, I think their
joi de vivre
is contagious, and I got infected.
So, they released their first single on Sunday, a mash-up of
Under Pressure
and
Ice, Ice, Baby
and the video came out today. Well, aside from the boys making giggle cause they are acting like total twinks at a party, the inclusion of Vanilla Ice was a brilliant stroke by producers. Because just in case you think you are taking them a bit too seriously, enter Vanilla Ice to give them noogies on camera. The more I watch, the more I laugh. That, my friends, is entertainment. LOL
I am telling you, the tongue in cheek nature of the whole think makes this effort 1000 times better than the original in my book, and I can't wait to see what comes next for the boys. If you are so inclined - and I obviously am myself - you can find out more about the boys at their website - PlanetJedward -
here
. You can also follow them on
Twitter
, as their Tweets have been amusing me for weeks. Special thanks for ElectroQueer for the tip on the video - visit his
site
, it is very good.